Wondering if you're being paid what you should? Look to your city and region. Chicago sits happily in the middle of our salary guide market tiers...it's friends with cities like Denver, Colorado and Los Angeles, California.
What's the current job climate in these cities? Good!
These cities offer many opportunities for creative employment in a variety of industries. In Los Angeles, the main industries are entertainment, of course, but also aerospace, tourism, and technology. Chicago has a mix of financial services, engineering, publishing, and food processing, while Denver's opportunities center on aerospace, telecommunications, and technology. And don't count out the thriving start-up scene!
The Chicago Job Scene
Looking for advice on Chicago salaries? We have to start with the job market. Chicago has seen an influx of companies moving their headquarters from the suburbs to the city and job seeking creatives are happy. Companies like McDonald's, Aon Hewitt, Kraft, and Discover are all renovating offices for new city teams.
What's more, Chicago is good at keeping companies in the city. Crain's Chicago reports:
Chicago proper did best at retaining companies when they moved, with 72% sticking around.
From 2001 to 2012, 2,400 establishments with five or more employees moved into the region, and 2,700 moved out.
But the ones moving in tended to be larger than the ones moving out, CMAP said, with "relatively little impact on employment" overall.
Good news. Want more in-depth information on job trends in the Chicago area? Check out the Bureau of Labor Statistics.
What About Start-Ups?
The start-up scene is alive and well in Chicago. Total funding raised in 2015 was up 9% from 2014 according the the 2015 Chicago Startup Report.


Companies like Uptake, Avant, Raise.com, Kapow , Civis Analytics and Reverb.com are succeeding. In fact, here are 50 more start-ups Built in Chicago thinks you should watch.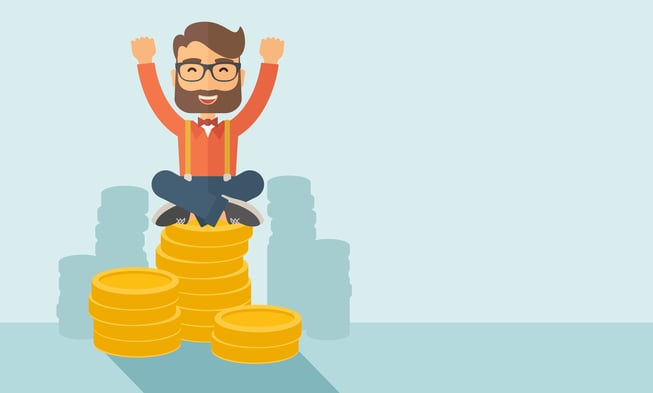 How is Salary Determined?
So how do companies decide how much to pay you whether big corporation or growing business? It's called market pricing. "Market pricing a job is the process used to determine the external value of a position, and it is fast becoming the norm for organizations as they establish competitive compensation practices" says Salary.com.
At a high level, market pricing enables companies to attract and retain top talent. When companies grow and expand into new markets, the process becomes even more critical as it provides a method for analyzing and evaluating internal pay practices against existing market rates.
Companies also have to take into account what their competitors are paying, the current economic landscape of their location, and of course, the experience level and popularity of the position they are hiring for. For example, the cost of living in areas like Chicago and Denver is 175-249% higher than national average.
The value of $100 is also a lot different than other cities like Indianapolis and New York City.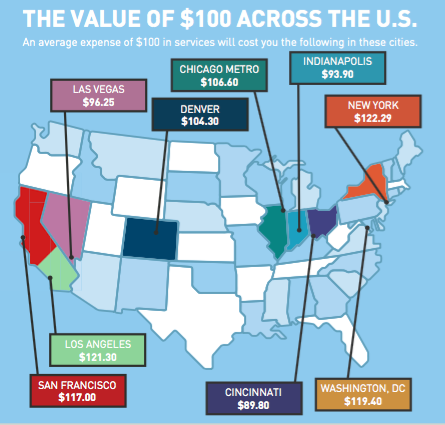 So while a Junior Front End Developer in Indianapolis makes around $52,000 they will certainly be making more in a market like Chicago, where the average base salary is around $68,000.
Of course salaries are always open to negotation. Learn more about the art of negotating your salary here.
What About Specialized Industries?
Are you in a highly specialized industry? How does that effect your pay? It varies from city to city, but in general, these industries attract specialized talent vying for certain jobs, which can increase the talent pool and decrease your pay due to competition.
For example, companies looking for talent with experience outside of government or B2B in Washington, DC will find a smaller talent pool and likely need to pay a higher salary. Conversely, an area's dominant industry can also create increased competition for specialized jobs and lower the supply of talent for other industries. It's not uncommon to find large gaps in pay in these metro areas.
How to Do Salary Research?
How do you know what number to write down in the desired salary box? Do your research. Salary guides are a great place to start, in fact, we recommend everyone read one. But instead of looking at a national salary chart, find one specific to your city.
For example, compare the national salary chart to our Chicagoland chart from our Cheat Sheet to Salary Guides.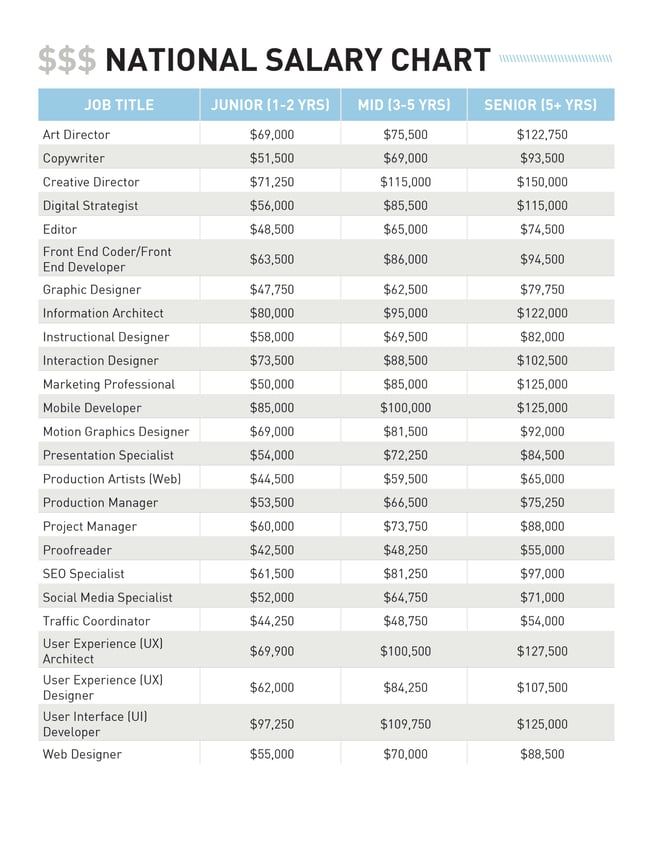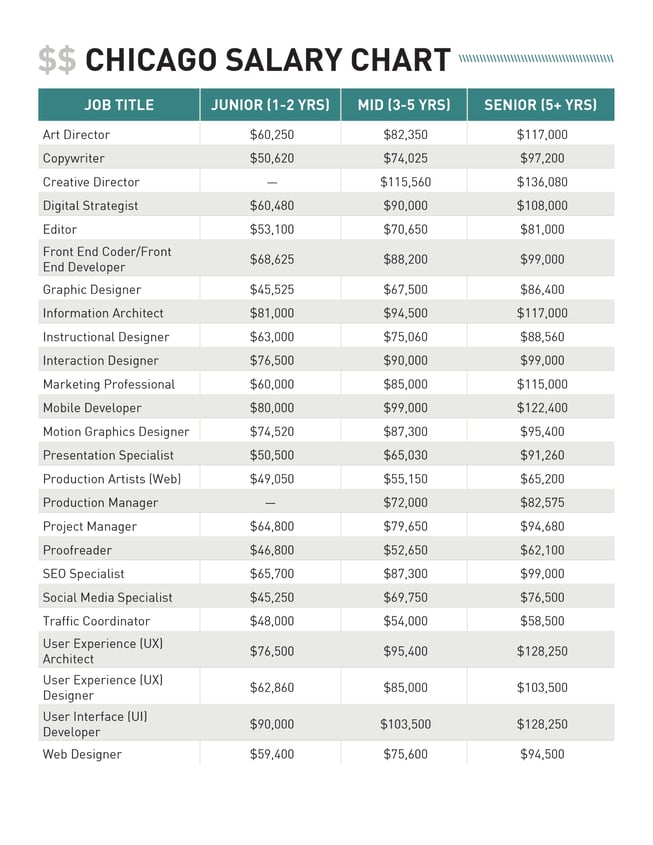 Differences abound depending on the job location and the level of your career. Salary ranges can also differ based on the company size and growth stage, so make sure to take that into consideration. A large agency like Leo Burnett is going to have a bigger budget than the small boutique agency that just opened up.
For more information, download our full salary guide breakdown for digital and creative jobs (it's free).
Other Good Salary Resources
Glassdoor.com
You can find basic salary information from jobs and companies, and find tips on their interview process, including what kinds of questions HR managers ask.

Indeed.com
This website has a tremendous amount of information for the job seeker, including company reviews from current and former employees.

Vault.com
Subscribing to Vault will allow you to access salary and benefits as well as other insider information that could be extremely helpful.

Your Friends and Peers
Join meetups in your industry, attend networking events, and ask around for going rates. Groups like AIGA, General Assembly, iXDA, and more are great resources for finding rates and salary norms.
Recruiters and Staffing Agencies
When it comes to Chicago salaries, your friendly Talent Representative and Recruiter has a good grasp on the pulse of salary trends and can quickly evaluate your current skill set. Don't be afraid to ask them what they think you should be charging.
The New Normal
Remember, when it comes to salary there can be lots of variance, but if you've done your research, you're sure to come out exactly where you should be.
Have any questions we didn't answer? Leave a comment, tweet to Artisan, or contact us and let us know.