On March 11, 2020, the federal government passed the Families First Coronavirus Response Act to support Americans around the COVID-19 outbreak. Part of this regulation aims to extend existing sick leave and paid family leave for workers impacted by the pandemic.
For details on the act, the Department of Labor has released an Overview of Employee Rights as well as a Question and Answer. We strongly recommend you review these resources to be familiar with your extended benefits.
Artisan is committed to supporting our contractors and making sure you understand your rights. These benefits, which include full or partial pay for Coronavirus-related leave, apply to employees that are currently working on a contract. While there are restrictions, you may qualify for these benefits if you cannot telework for reasons connected to the COVID-19 pandemic.
We are here to help you understand your rights and your benefits under this law. If you believe you may be eligible or have any further questions, please reach out to our team.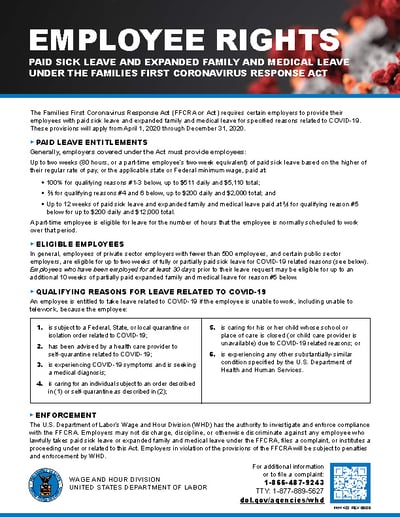 *Click to read full text.
Read more