We are thrilled to announce we have won Inavero's Best of Staffing® awards in both categories, Client and Talent Satisfaction, for the fourth year in a row!!!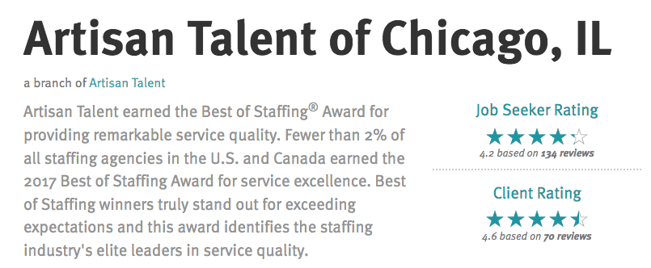 How was Artisan selected?
Each year, the top staffing agencies earn the Best of Staffing Award if they can prove superior service quality. The competition is fierce and relies completely on the ratings given by hiring professionals and job candidates.
Inavero determines the minimum satisfaction score that staffing agencies must earn to be awarded Best of Staffing. The minimum score for client and talent satisfaction is significantly higher than the industry average.
This year Artisan had a net promoter® client satisfaction score of 74.3 - which means 79% of those surveyed rated Artisan a 9 or 10 out of 10!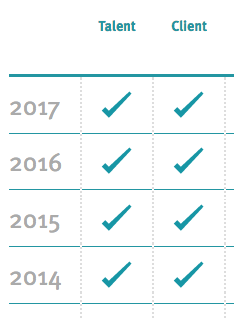 All Best of Staffing contestants went through a rigorous surveying process with Inavero, the world's leading provider of client and job candidate service quality research for staffing agencies. Artisan Talent earned the Best of Staffing Award after obtaining a Net Promoter® Score (a standard metric for measuring satisfaction) showing extraordinarily high levels of satisfaction. Learn more about the surveying methodology and the Best of Staffing Awards.
Best of Staffing: The Top 2%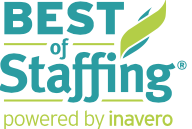 Did you know? Best of Staffing award winners make up less than 2% of all staffing agencies in the U.S.
Focused on helping connect people with the right job openings at U.S. companies, we received satisfaction scores of 9 or 10 out of 10 from 79% of their clients and 66% of their talent.

A Huge Thank You to Our Talent & Clients
We couldn't have done it without you. Winning this award again is a testament to the employees, talent, and clients we work with every day. Our Founder and CEO Bejan Douraghy says,
It is our privilege to work with such top-notch talent and clients. Our company works hard to keep client service and talent advocacy at the top of our priorities. We're honored to be recognized for a fourth year in a row.
Thank you to everyone who helped us achieve this win!
---------------------------------------------
Need help staffing your next project or open digital, creative, or marketing role? We would be happy to help! Learn more about hiring with Artisan by clicking here or contacting us at 1.800.216.0600.