Ask any HR Manager and they'll probably agree that employee onboarding is important. There is plenty of data available on why onboarding a new employee is crucial to their success. But some HR Managers still think of onboarding as a short-term orientation process, while in fact, the latest word from human resource (HR) experts is that your onboarding process should stretch into the employee's first year on the job and encompass cultural fit as much as concrete job skills.
Here's what the experts say about how to create a best-in-class onboarding program designed to set your employees up for success and retain them longer at your company.

Onboarding Versus Orientation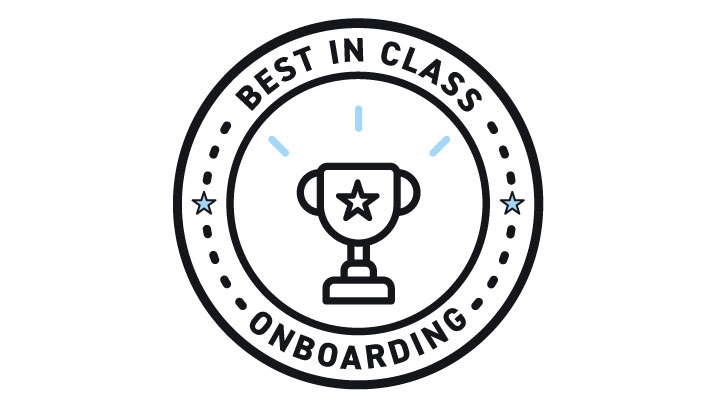 Onboarding is a welcoming and training process for new employees. If done properly, it will set your new hires up with the skills they need to get cracking on the job you hired them to do.
Onboarding is not orientation, which should include new hire paperwork, an overview of the company, and an introduction to some of the tools the new employee will use. That's when employees receive their system logins and learn the basics of company structure, as well as receive a tour of the facility.
However, orientation should be a part of the onboarding process. The Society for Human Resource Management (SHRM) suggests that onboarding should run for a full year at a minimum and should start even before the employee's first day. They say it's a crucial way to engage employees and ensure their loyalty and retention.
The goal of onboarding should be to turn a great hire into a great employee. Here's how we define the differences between orientation and onboarding:
Orientation is a one-time event that happens on the employee's first day. It should review the benefit plan and company vision, as well as the computer systems they'll use most frequently. It's a time to complete paperwork and review administrative procedures and corporate policies.
Onboarding is a strategic process that defines the employee's role in the company, helps them fit in culturally, and gives them the skills they need to perform at a high level.
Orientation should include:
The company mission, vision, and history
Organizational chart
A discussion of company culture
Policies and procedures
Benefits including the process for asking for time off
A tour of email, voicemail, data filing, the corporate intranet, or other tools that are common to all departments
Dress code
Confidentiality and the process for contacting HR
How to log time
Pay periods
The orientation schedule
Think of onboarding as the glue that helps new employees stick. The process helps employees buy into their day-to-day fit in the organization.
With SHRM suggesting that onboarding should go on for a year, the next logical question might be: "What in the world do you want me to do with new hires for the next 12 months?" The answer varies by department but should always be designed to reduce turnover and improve employee engagement.
Understanding Onboarding

Efficient Hire says your onboarding program should be designed to do five things:
Increase employee retention
Improve employee efficiency
Enhance employee communication and engagement
Create a stronger corporate brand
Reduce costly turnover at the company
Onboarding should make the new employee feel at home in their role. The process can decrease employees' worry that they won't fit in. It also can introduce increasing amounts of workload so the employee doesn't feel overwhelmed with how much they have to do but how little they know about the new job. The Substance Abuse and Mental Health Services Administration (SAMHSA) defines the value of onboarding in this way:
"When employers take the time and effort to deliver an effective orientation, the message is conveyed that the organization is committed to employee development and is providing the training and resources necessary to do a great job."
We know that a lack of proper onboarding is a key indicator for employee turnover.
Creating a great employee onboarding experience takes time, strategy, and effort. Considering the high cost of employee turnover and the fact that 50% of employees leave in their first 18 months, we believe the effort to onboard well is worth it. But what makes a good onboarding program?
Let's look at two models for employee onboarding from some of the experts in the HR field.
Onboarding with Dr. John Sullivan

"Strategic onboarding surpasses transactional, checklist-based onboarding processes owned solely by HR and instead focuses on creating an experience owned by HR and involving the entire organization."
~Bill Cleary, Deloitte
Silicon Valley HR expert Dr. John Sullivan says if your HR onboarding process isn't world class, you're going to fail to meet your goals of retaining top talent. That's the best motivator for creating a long-term personalized and strategic onboarding process with clear goals for each employee. Some of the goals of these programs and their benefits include:
Improving the candidate experience. Your new hires are at their most vulnerable during the time between when they've accepted the job and their start date. If the sale isn't reinforced, a recruiter could swoop in and steal your best candidates. Ghosting happens, but if new hire onboarding starts just after job acceptance, you'll be less likely to lose the candidate to competition.

To do: Set up a new employee intranet where workers can log in to fill out their new hire paperwork, watch videos on a day in the life of the typical employee, ask the HR team questions, and engage from day one.


Increasing worker productivity. The best onboarding programs get new hires up to speed quickly so their production levels are achieved as quickly as possible. This will set the baseline at high engagement for new employees. A longer-term onboarding process should gradually increase worker responsibilities over time. This may help keep your employees interested, engaged, and motivated in the long term. Tracking employee retention against the onset of an onboarding program is the best way to measure your success in this area.

To do: Onboarding programs across departments should not be siloed; they should be part of a coordinated HR effort that is tracked and measured. HR teams should establish and monitor department manager expectations of their roles in the onboarding process. Work directly with them to structure the onboarding process beyond orientation. Make them aware of the goals of the long-term onboarding process and work together to measure and hit those benchmarks. Create quarterly coaching that allows HR to liaise with the employee and their managers to be sure the onboarding process is working the way it was intended.


A clear competitive advantage for your organization. Onboarding has a ripple effect that creates happier employees and community goodwill. Potential employees look at company review sites as frequently as consumers look at customer rating sites—and onboarding could improve both. If your workers have been onboarded properly and are engaged in the success of the organization, you stand a better chance of attracting top talent. Your customer service metrics will likely rank higher, too, which generally means you'll sell more stuff. Onboarding is the initiative that can help your organization beat competitors in both selling and hiring.
Do you know the expression "happy wife, happy life?" For employers, the adage should go something like "happy workers, happy company." Onboarding is a great way to keep employees productive and engaged. The nation's leading human resources organization, SHRM, agrees. Here's what they recommend for a long-term employee onboarding process.
Onboarding the SHRM Way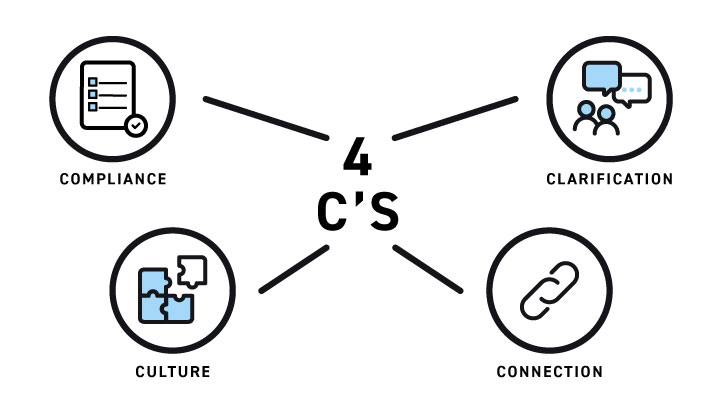 SHRM reports that there is substantial evidence that successful new employee onboarding programs lead to:
Higher job satisfaction
Increased commitment to the organization
Lower turnover
Higher productivity performance
Long-term career effectiveness
Lowered stress
They also report that employees who are successfully onboarded are fully productive two months sooner than their counterparts. This evidence fully supports Dr. Sullivan's point that improving your onboarding process will strengthen your competitive advantage.
SHRM says every successful onboarding program should be designed to cover the four Cs of onboarding:
Compliance teaches employees what they need to know about policies and procedures
Clarification ensures that employees understand what is expected in the job
Culture helps employees understand the informal and formal behavioral norms in the organization
Connection is the glue that increases engagement and retains employees for the long term
SHRM believes that onboarding starts with a job offer. They recommend providing the new hire with a corporate online web portal that offers:
A written orientation plan
Content designed to engage the new employee
A personal note from their new manager
Photos and messages from their new team
A glossary of company acronyms
A virtual copy of the employee handbook
An HR portal that allows them to fill out new hire paperwork
FAQs
SHRM offers a game plan for their recommended one-year onboarding process. They suggest the first day for any new employee should include:
Establishing job duties and responsibilities
Setting expectations for high performance
Introducing goals and objectives
Time to get to know their coworkers and manager
Acclimating them to corporate culture
SHRM also suggests an important point: managers should work with their existing teams to understand how the new hire will complement their work. That way existing team members will not feel like the new hire is going to threaten their job. How will the jobs intersect? How will this change the project you're working on? Address these questions internally so existing team members will not feel threatened by the new hire.
According to SHRM, onboarding should continue for the first few months with the following steps:
Establish employee goals for their career in the organization. Set up ongoing training to help them meet these goals. What is it that the employee would like to learn? Is there a specific set of hard or soft skills they'd like to acquire?
Have a one-month and then quarterly check-ins with new employees, their managers, and various team members. Make sure the process includes a way to determine how the new employee is fitting in with all stakeholders. Is the manager communicating what is expected? Do you feel like the new employee is being set up to succeed or fail? SHRM recommends the following questions during these meetings:

Give me your read on the company and the situation we're in today?
What do you believe your highest and lowest priorities are today?
What are your goals for the future here?
What are the best ways to communicate with you in the future?

Establish a mentorship program that pairs the new hire with an existing employee during the first few months. A mentor can help employees acclimate by answering questions and offering advice. This will go a long way toward ensuring that employees feel that crucial sense of connection with their new team.
Set up feedback tools that provide the employee and teams with ways to seek and receive guidance in their jobs. Establishing performance appraisals and 360-degree feedback mechanisms beyond the standard one-year evaluations is crucial to employee engagement. Facilitating proactive ways to answer questions and give feedback will help employees grow while increasing their engagement in the work at hand.
Arrange informal social interactions that bring teams closer together. Work with department managers to make sure there are voluntary functions that can tighten the bond between workers, improve communication, and increase collaboration.
SHRM points out that these onboarding best practices should be applied from the executive to the entry-level worker. While the approach may differ by department, skill level, and position, the best outcome of a solid employee onboarding program is that you retain good employees longer. Conversely, failure of your onboarding program could result in the loss of the employee. While that may be fine for a candidate that isn't performing well, too many times the new employee feels alienated and looks for new opportunities because they simply haven't been given the right tools for the job. Those tools are both cultural and tangible, and both can be provided through a well-structured onboarding program.
What's Next for Your Onboarding Program?
"If we don't worry about onboarding before the employee starts, then we're way behind."
~Ben Peterson, BambooHR
One thing Dr. Sullivan and SHRM agree on is that onboarding starts during the recruiting and hiring process. That's why working with a recruitment firm should be a logical extension of your HR team. Staffing agencies like Artisan Talent are most effective with a tight collaboration between the client and their recruitment team. Together, we can find the best talent carefully selected to fit both the demands of the job and the culture you're trying to build. Contact us to find out how we're different.
Looking for more on how to train and retain your team? Check out our other blogs on the topic: