Does your resume make you look like a job jumper? If you're riding the wave of the new "normal" -- part-time, freelance, or contract work, and you try to capture that in written format for future employers, pretty soon your resume is going to start to resemble War and Peace.
Human resource managers still suggest that you keep your resume succinct. So how will you capture all that experience on a resume? Here's how to fit your resume on one page.
New Rules, Old Resume
In 2016, the job market centers on risk. While the economy has slowly rebounded after the 2008 crash, the work world has shifted from stable full-time roles with insurance and pensions to part-time gigs and I-9 contracting. Read more about the state of freelancing here.
When it comes to careers, a recent Forbes article suggests that millennials are hopping like the Easter bunny – and they like it. Forbes suggests this may be more a function of age than an actual demographic characteristic; it cites a Bureau of Labor Statistics study showing Baby Boomers played more job hopscotch when they were younger, too. Fast Company tells us staying in a job for three years is average, and there are benefits to both an employee and an employer.
The only problem? Capturing all these hops on a one-pages resume is challenging.
How to Create a One-Page Resume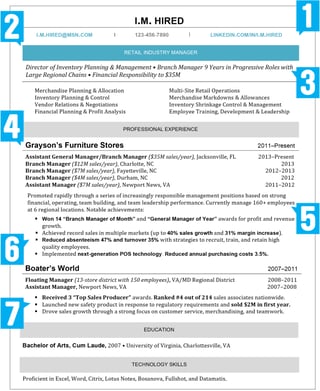 Here's a resume template at Time Money (above). Concise and succinct, it leads with a summary of skills, and then briefly lists a nine-year history on one page. Using that template, let's review the "new rules" of one-page resume:
Write for a skimmer


Share only the most important accomplishments from each job. You're not telling your life history; you are simply sharing the high points from each job.



Highlight skills


Make sure your superstar skills are at the very top of the page. Most HR managers start by briefly perusing the pile of resumes they've received. They're looking for the easy out – resumes with typos and poorly written tomes usually never make the second cut.

These managers will probably glance at the summary on their first go-round, so lead with your best skill or accomplishment.



Edit, Edit, and Edit Again

Make sure to edit out every unnecessary word or phrase such as "duties included" or "references available upon request."



Less is More

If you want to stick with one page, less is probably more. If you're an experienced executive, it's wise to take your resume backwards from one to ten years. As time progresses, you will naturally drop jobs off.



Find a Friend

Engage a second set of eyes to review your resume, whether it's your HR-savvy niece or a professional recruiter. We guarantee they'll probably find something you missed.
Ready to Submit Your Resume?
Send it to us! Our team has seen thousands of resumes and would enjoy sharing our expertise as you begin your job search. Contact us today to find out how we can help your resume stand out from the crowd.