Remote work setups can vary dramatically, from the occasional work-from-home day spent at the dining room table to digital nomads who roam the world, working out of hotels and coffee shops. Thanks to 2020, keeping an ongoing, functional remote work environment is the newest priority that may not be something you've considered.
Whether you're a seasoned remote worker or just trying it out for the first time, here are a few tips for creating a consistently reliable, relaxing, and productive work environment.
1. Stay Connected at All Costs
Remote work depends on internet connectivity—for communication, file sharing, and research. Establishing a precedent of asynchronous communication (communication that doesn't require two or more people to be present at the same time, like email or Slack) with your team can give you some flexibility in your response time, but sometimes, you need a face-to-face video chat to hash out a complex project with a coworker—and a spotty internet connection won't cut it.
Here's a four-stage redundancy plan for maintaining a good internet connection, from ideal to last resort (and by redundancy plan, we mean that you should have two or more of these options at your fingertips):
High-speed internet at your home or hotel
An uninterruptible power supply (UPS) to keep your Wi-Fi router and modem running when the power goes out
A phone plan with extra data to allow you to tether, or a mobile Wi-Fi hotspot like Skyroam or Keepgo
Two or three nearby hotels, coffee shops, or libraries with good internet (scout these beforehand and don't forget your mask!)
Starbucks, McDonald's, Walmart, and many other national chains have free Wi-Fi hotspots. Most libraries do as well. Sometimes your internet provider will give you access to local Wi-Fi hotspots. Note that if there's a power outage, nearby businesses might not have power for their Wi-Fi hotspots either, which is why having a UPS and/or mobile hotspot is so important.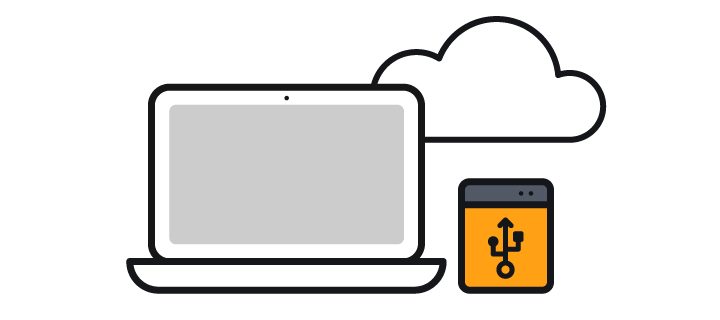 2. Back Up Your Work
Sometimes, we take for granted how much of our work is automatically backed up in the cloud: Gmail backs up our emails, Dropbox stores our files, and Slack preserves our conversations. Still, most of us have files on our desktops or in folders that aren't automatically backed up. If you're looking to get some peace of mind and data redundancy, a good place to start is the 3-2-1 backup rule:
3 copies of the data
2 different formats
1 copy off-site (in the cloud)
You already have one copy of your data on your main working computer. The second copy can be as simple as an external hard drive set up to mirror your main hard drive. Apple users have Time Machine, and Windows 10 users can use Backup and Restore.
This second copy will be your primary recovery method, because it's generally faster to recover from a local backup than to re-download gigabytes of files from the cloud. However, for true redundancy, you'll need a third copy of your files off-site, in the cloud.
It's not a matter of if, but when, your computer will have hardware issues (like a corrupted hard drive), or worse, get stolen. File storage/sharing services like Dropbox and Google Drive are relatively cheap insurance for your files. As a bonus, storing your working files in the cloud enables you to share them via a secure link instead of emailing the actual file as an attachment.
If you need more comprehensive file backups, services like Backblaze and Carbonite back up your entire computer with no storage limitations. The drawback is that recovering your files can take a bit longer, depending on how much you need to recover.
3. Be Clear and Succinct In Your Communication
Nothing derails remote productivity like miscommunication. Even with the increased prevalence of real-time video chat and casual conversation platforms like Slack, being able to clearly express your ideas in the written word is vital. Here are a few tips to immediately improve your written communication, especially via email:
Use descriptive subject lines for email. For example, instead of "meeting next week," try "Social Media Meetings at 5pm on 6/15."
Proofread for correct grammar and punctuation (Elements of Style is your friend here).
Keep emails to five sentences or less (which also makes proofreading easier).
Pay attention to your tone. Exclamation points and emojis go a long way toward expressing gratitude you'd normally convey with body language. For example, "Thanks" can seem sarcastic but "Thanks! :)" reads like you're actually grateful.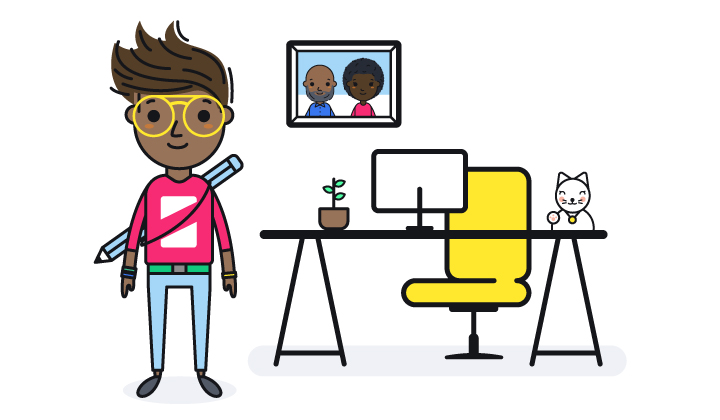 4. Make Your Office a Temple to Your Work
For those working from Airbnbs, hotels, and borrowed couches (couch surfing, anyone?), creating a sense of continuity between locations is important, but this tip also applies to folks working from home or an office.
Set up your workspace in a way that brings you joy and primes you to do your best work. Maybe it's a hardy traveling plant, a waving kitty statue, or a picture of a family member. Surrounding your workspace with inspiring objects can make it easier to get into productive work mode. Objects of religious or other personal significance can also serve as simple reminders of the higher-level motivations for doing the work in the first place. As an inscription on the wall of an 18th-century English church reads, "A vision without a task is but a dream, a task without a vision is drudgery, a vision and a task is the hope of the world."
5. Don't Feel Constrained to Hourly Norms
There's no natural law that optimizes humans to work an eight-hour day, five days a week. If your job allows for it, adjust your working hours to the times when you are most productive.
Creative work happens in blocks of uninterrupted time. If your work doesn't require a lot of collaboration and has clear deliverables, it might be easier to break your work week into three 12-hour days, or six 6-hour days. Mornings are great for some people and evenings are great for others—use trial and error to figure out what works for you. Don't be shy about working out a more flexible working situation with your employer/client. If you're delivering good work and communicating clearly, most clients are happy to accommodate you.
---
Whether your ideal workspace is covered in collectible Transformers tchotchkes or is zen-like, entirely clear of clutter, Artisan is here to connect your remote talent to roles and projects all over the country. Reach out and let us know what you're looking for.