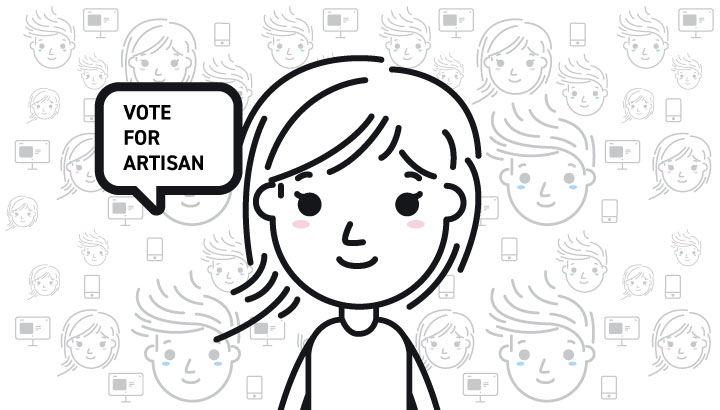 Artisan is thrilled to announce our first ever Webby Award Nomination!
The Webby Awards, which the New York Times calls "the internet's highest honor," seeks to recognize the best of the internet and released the nominees of their highly coveted awards this past week. Websites, online film and video, advertising and media, mobile sites and apps, social media and more all have the chance to vie for that silver spring trophy and famous five-word acceptance speech.
But how does it work? Who picks the winners? Read on to learn all about the Webby Award process.
How the Webbys Work: Nominations
Webby Award Nominees and Winners are selected by members of The International Academy of Digital Arts and Sciences from a pool of entrants and evaluated against a number of criteria. There's a rigorous process to win the coveted Webby Award.

What are the criteria for an award? In Artisan's category — employment websites — entrants are judged based on the following:
Here are a few stand-out things to note and where we think Artisan stands out thanks to our new 2018 website by Waaark.
Content
Content is the information provided on the site. It is not just text, but also music, sound, animation, and video — anything that communicates a site's body of knowledge. Good content should be engaging, relevant, and appropriate for the audience; you can tell it's been developed for the web because it's clear and concise and it works in the medium. Good content takes a stand. It has a voice and a point of view. It may be informative, useful, or funny, but it always leaves you wanting more.
Visual Design
Visual design is the appearance of the site. It's more than just a pretty home page, and it doesn't have to be cutting edge or trendy. Good visual design is high quality, appropriate, and relevant for the audience and the message it is supporting. It communicates a visual experience and may even take your breath away.
Overall Experience
Demonstrating that sites are frequently more or less than the sum of their parts, the overall experience encompasses content, visual design, functionality, interactivity, and structure and navigation, but it also includes the intangibles that make a visitor stay or leave. A visitor has probably had a good overall experience if they come back regularly, place a bookmark, sign up for a newsletter, participate, email the site to a friend, or are intrigued enough to stay for a while.
How the Webbys Work: Round 1 Judging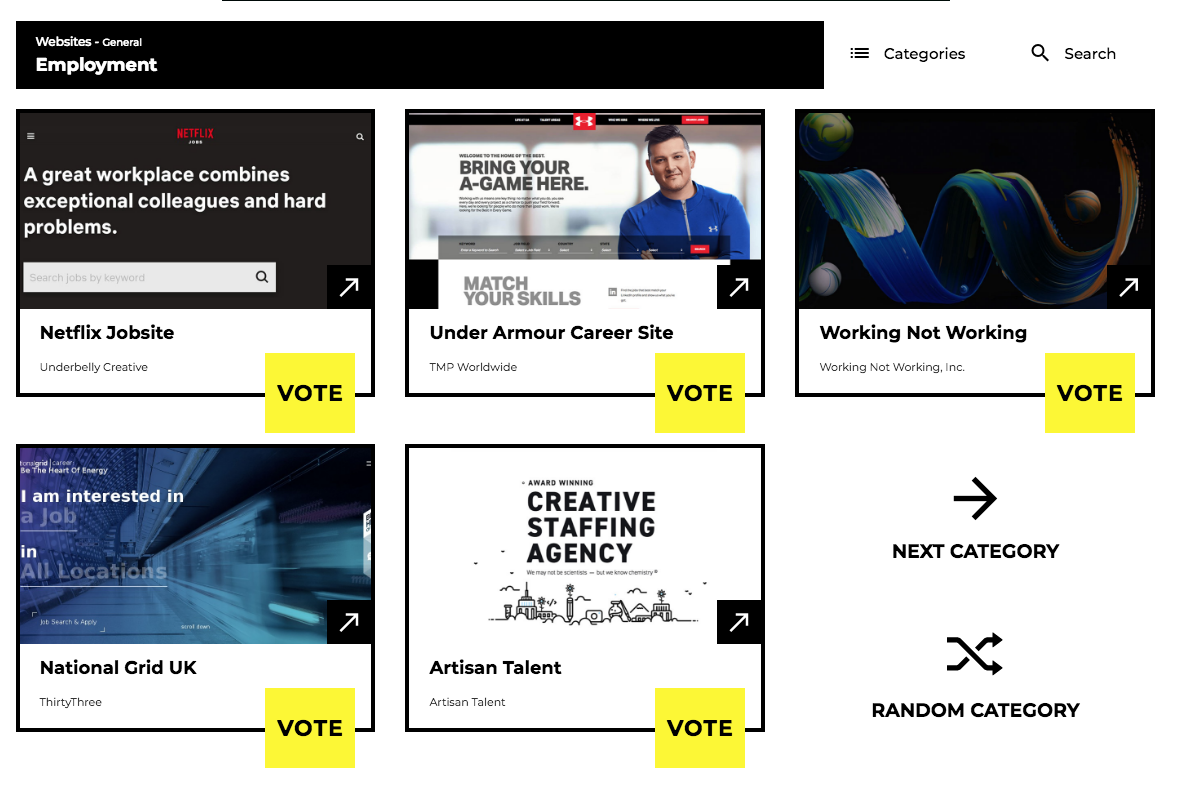 Here's how Webby judging is done, straight from WebbyAwards.com:
Associate Members of the International Academy of Digital Arts & Sciences independently inspect the thousands of entries submitted during the Call for Entries, rating each one based on its respective judging criteria. Every entry is evaluated by multiple Associate Academy Members. The top entries are then included on category-specific shortlists and further evaluated by Executive Members of the Academy.
Who are the Associate Academy Members? They're former Webby winners, nominees, and other industry experts. "As such, they have demonstrable expertise in the categories they review. In order to be accepted to the Associate Academy, members must first submit applications and be verified as experts and leaders in their peer groups."
Round 2: Final Judging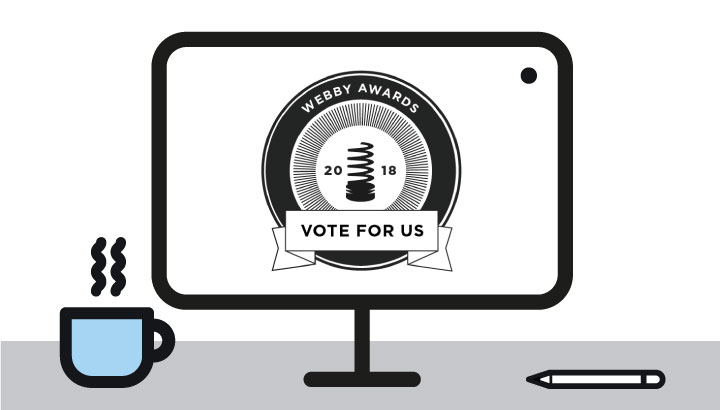 Executive Academy members with category-specific expertise further evaluate the shortlisted entries based on the appropriate Website, Film & Video, Advertising & Media, Social, Mobile Sites & Apps, Podcasts & Digital Audio, or Games criteria, and eventually cast ballots to determine Webby Honorees, Nominees, and Winners.
This year's Academy judges include Jimmy Kimmel, Instagram's Eva Chen, and Playmatics CEO Margaret Wallace, among others, reports Deadline.com.
Only five nominees and one winner can be chosen for each category!
Wondering Who Won in 2017?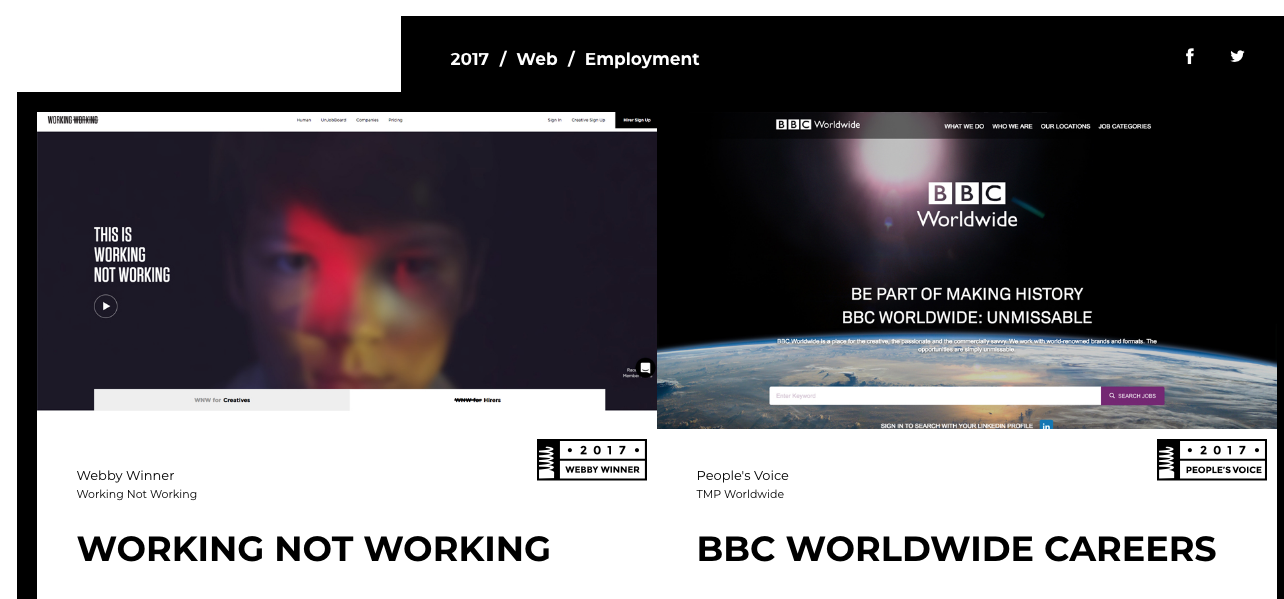 In 2017, the two winners in Artisan's category (Website Employment) were: Working Not Working and BBC Worldwide. In 2016, Freelancer.com beat out Glassdoor in the employment category.
We have some stiff competition!
See a full list of the 2017 Webby Award Winners here.
The People's Voice Awards
From now until Thursday, April 19, 2018, Webby Nominees go head-to-head in an effort to capture the coveted People's Voice award in their category. But winning the internet is no easy task, says WebbyAwards.com.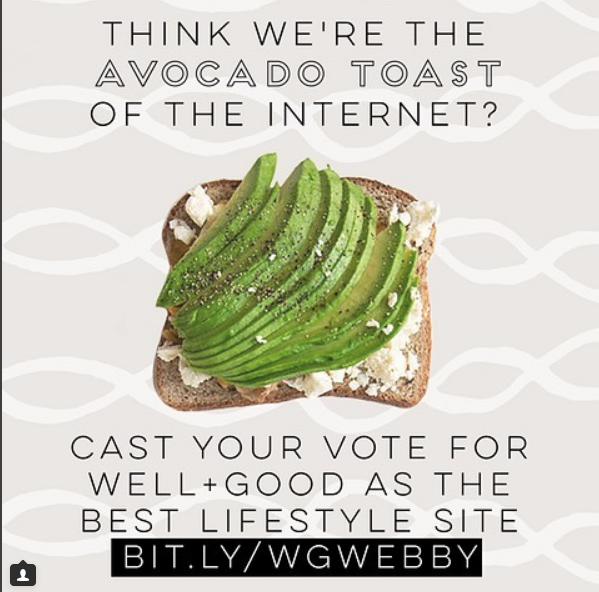 Nominees can get creative when it comes to getting votes for the "People's Choice" version of the Webby Awards — like Well + Good did above in 2016.
We're keeping an eye out for unique posts this year. Here are a couple of our favorites so far: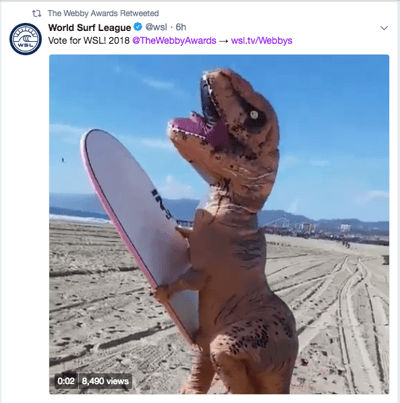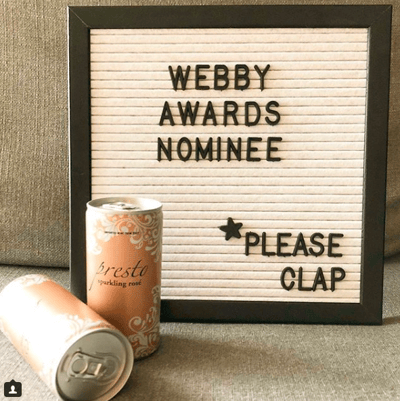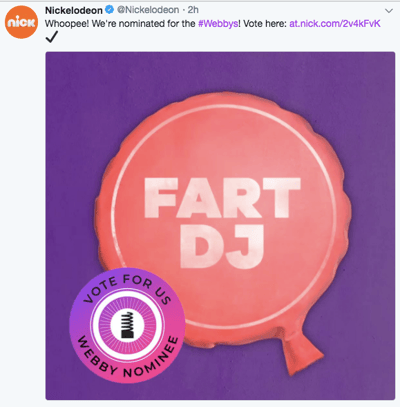 Have you seen any campaigns that you particularly love? Let us know!
Vote for Artisan
Like we said, we have some stiff competition when it comes to winning the People's Voice Award Webby, but with your help, we're confident we have a shot at the top.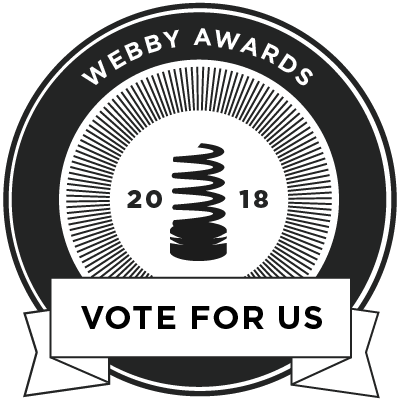 We would be humbled, happy, honored, etc., if you would take a moment and give us your vote. All you have to do is click here! Our Social Media Manager and Content Creator Kirsten Agnello-Dean thanks you in advance: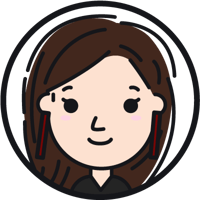 "We're excited and honored to be recognized by The Webby Awards and appreciate everyone taking the time to vote for 'the little guy.'
"The marketing team at Artisan worked very hard over the past several months to get our new design and website launched this year. We're thrilled that our new look, paired with our thoughtful content, is getting noticed."
Thank you to everyone who helped make this exciting time possible, including our amazing staff, talent, and clients.
Now, let's get out and rock the vote!