Organic search remains a significant source of website traffic and one of the most valuable marketing channels. BrightEdge, the Search Engine Optimization (SEO) and content platform, has found that more than half of all website traffic comes from organic search. Therefore, having hands-on SEO experience makes you an asset to brands and businesses. So, how do you get good at leveraging this skill?
1. Learn How Search Engines Work
A search engine's main goal is to provide accurate responses to user queries from websites on the internet. It may seem obvious but of course, the first step in becoming an SEO expert is to understand how search engines find and rank relevant web pages. Knowing this won't only help your clients-to-be—it can also help you craft your own strategies to grow your website traffic.
Search engines typically use three main steps when ranking a website:
Crawling - Search engines use bots, also known as web crawlers or spiders to find websites and discover content on the web. They crawl the pages' codes and add them to the search engine index—a cached collection of pages.
Indexing - Next, search engines store and organize the content collected via crawling. The search engine analyzes each page by looking at the text content, videos, and images.


The cataloged info is stored in the engine's index. So when a user enters a query, the search engine looks for pages that match the search query and then provides the results. This is why you get search results almost instantly.
Ranking - Finally, the search engine determines which sources are the highest-quality content for specific queries and serves them to you.
The search engine will consider various factors, including device, previous search queries, language, and especially location, to personalize the results to the user.
Search engines will also rank websites based on how well they meet their set ranking factors and practices. Some common ranking factors include your site's speed, user experience (so, web design is very important), and domain authority. Of course, sites that fulfill these requirements outrank those that don't.
Finally, don't forget to read the search engines' Quality Rater Guidelines, too. They're not direct ranking factors but they also influence a site's ranking. These guidelines include factors that human quality raters look for.
2. Master the Basic Concepts of SEO
The SEO field is vast. But, to become an SEO expert, you need to master the basic concepts. These allow you to understand what strategies and tactics will work and why helping you stand out from others.
In order to leverage the power of search engines, you need to understand the three basic SEO techniques: on-page SEO, off-page SEO, and technical SEO.
On-page SEO deals with elements on the web page, like the content length, content format, keywords search volume, links, titles, and headings. To get on-page SEO right, you'll need to ensure your content includes relevant keywords and only include quality links.
Use header tags like HI, H2, H3, and H4 to format the content. These tags add context and structure, making the content easy to follow.
Finally, add images or videos and include descriptive alt text with effective keywords that help web crawlers easily understand the visuals.
Off-page SEO on the other hand deals with actions and tactics you'll use outside a website to further optimize it for ranking. These include getting quality backlinks through guest blogging, positive reviews, optimizing directories and maps, and creating inbound links to blog posts or relevant service pages.
Technical SEO refers to the optimization of technical aspects of websites, which are key during the crawling and indexing phase. These practices ensure that search engines easily index all your website's key pages. They require technical skills like URL canonicalization, identifying linking errors, rectifying a sitemap, and boosting site speed.
To become an SEO expert, you must also learn how to use tools that automate time-consuming tasks and analyze your SEO techniques, for all three categories. Fortunately, some search engines like Google have built-in SEO tools like Google Analytics or PageSpeed Insights. Alternatively, use third-party tools like Yoast SEO, Keyword Planner, and Ahrefs for relevant SEO services. Here is an alternative resource: enterprise SEO company
3. Apply What You Know on Your Site
Perfecting SEO requires lots of practice. Your website or blog provides a golden opportunity to put theory into practice. You can test new trends and strategies, and this can help you grow and stand out.
Learning new SEO skills is also easier because you can implement changes and make adjustments quicker on your site than on your clients' sites. As a result, you can easily track search engine rankings to identify the specific SEO practices and tactics that helped you grow your website traffic.
Besides that, you also become a T-shaped SEO expert—meaning that you work on all factors, from design to content creation, keyword optimization, and link-building.
Finally, by implementing your SEO knowledge on your website or blog, you build a portfolio as a freelance SEO expert, allowing you to attract potential clients and demonstrate your SEO skills.
TLDR;
If you're looking to become a freelance SEO expert, you need to put in the work. You must learn how search engines work, master the basic SEO concepts, and apply your new SEO knowledge on your website or blog.
It's going to take some time, for sure, but once you get there, it will all have been worth it. You'll see those clients coming in. Good luck!
---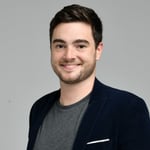 About our Guest Author
Daryl Bush is the Business Development Manager at Authority.Builders. The company helps businesses acquire more customers through improved online search rankings. He has extensive knowledge of SEO and business development.