You've done it. You made it through another year of work and life and lessons learned. If you're like a lot of people, you mark the end of one year and the beginning of another with resolutions to make things better in the coming months. Unfortunately, you probably also don't keep your resolutions for very long. This isn't an assumption; it's based on research.
The research may lead us to assume that our efforts to improve aren't worth the smartphone they're written in, but that cynical attitude belies the belief that your life and your job can get better — especially when the calendar changes to a new decade.
At Artisan Talent, we believe in the possibilities of a new year. We refuse to believe that goal setting is dead. But how can you set yourself up to achieve your resolutions?
Let's end the year by looking at our New Year's resolutions, whether they still matter, and how you can make them stick.
The State of Our Resolutions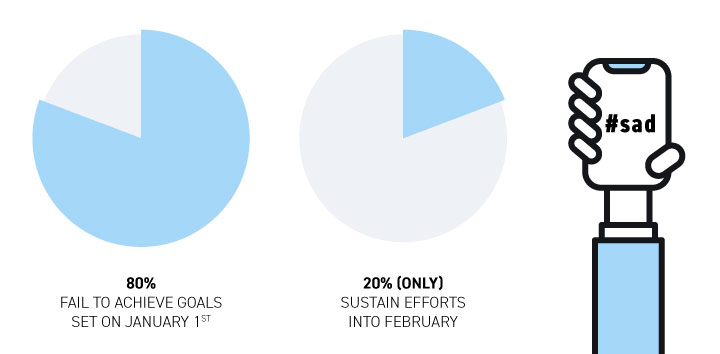 We debated calling this section "Why we suck at making New Year's resolutions." Americans do a terrible job of sticking to the goals they set at the beginning of the year. While most people set New Year's resolutions, 80% fail to achieve them. Are we weak? What's wrong with our perseverance and motivation?
To make our embarrassment greater, not only do 80% of us fail to achieve the goals we set on January 1, but only 20% can sustain these self-improvement efforts past the second week of February.
Sad, right?
Rather than heaping ridicule on our pathetic efforts to improve, The New York Times offers some insight, saying the problem isn't our lack of motivation but our inability to properly quantify goals. We're too wishy-washy in our attempts to better ourselves, settling for goals that are either unrealistic ("Never fight with my partner again") or vague ("Lose some weight") or over the top ("Write a best-selling novel").
Taking on too many goals too quickly ("Eat only salad three days a week, go to the gym every day, and take five coding classes.") is a classic way for good goals to break down and fail. Setting goals that are unrealistic, too vague, or that defer gratification for a long period of time is a good way to feel guilty about your inability to achieve them.
We also tend to take on goals that are way too big. Do you think ultramarathon runners can log 50 miles the first time they set out? Do mountain climbers start with Mt. Everest? These primo athletes follow the goal-setting tip of breaking their big goals into smaller, more achievable milestones with rewards at every small step. We can apply this training ethic to our (less exhausting) work-related goals in order to stand a better chance of achieving them in 2020.
The secret to setting goals at work or home is making them specific, measurable, attainable, realistic, and time-bound (SMART).
Forget Resolutions, Make SMART Goals

Setting a personal resolution is different from setting a work goal. Both may matter to you but a resolution isn't the same as a goal. Resolutions are typically more nebulous, such as, "I'm going to be a better person this year," while a goal could be, "I'm going to ask my boss for a raise this year." While both may be achievable, it's only the goal that seems quantifiable. Resolutions seem like lofty vision statements that might look cool on a piece of wall art from Target but are less realistic in real life.
Why don't you use the SMART goal-setting technique to increase the chances that you will join the coveted 20% of Americans who actually achieve a goal they set for the New Year? A SMART New Year's goal should be:
A specific goal that breaks self-improvement into quantifiable steps
A measurable achievement such as "I will lose five pounds every month in 2020"
Attainable so that you don't set yourself up for something that you really can't do
Realistic and in your control to achieve
A time-based goal broken into smaller increments so you can have small wins throughout the year
In 2019, Inc. reported on some of the most common New Year's resolutions that Americans set and mostly failed to achieve:
Diet or eat healthier
Exercise more
Lose weight
Save more and spend less
Learn a new skill or hobby
Do you see why these were epic fails for most of us? Applying the principles of SMART goals could have turned each of these into a more quantifiable and achievable goal. For example:
Pack my lunch for work three days a week instead of eating out
Join a yoga class and go twice each week
Lose 10 pounds each quarter in 2020
Set aside $100 per month to spend on eating out and non-essential shopping and save $20 each month
Take one class per quarter to learn a new skill
The key to a SMART goal is identifying the behaviors necessary to achieve it. It completely changes the murky resolution into a concrete, and therefore more achievable, milestone.
Forget those empty end-of-year promises. Now that we know how to make our New Year's goals achievable, let's look at how we can apply these concepts in the work world.
20 Best New Year's Goals for 2020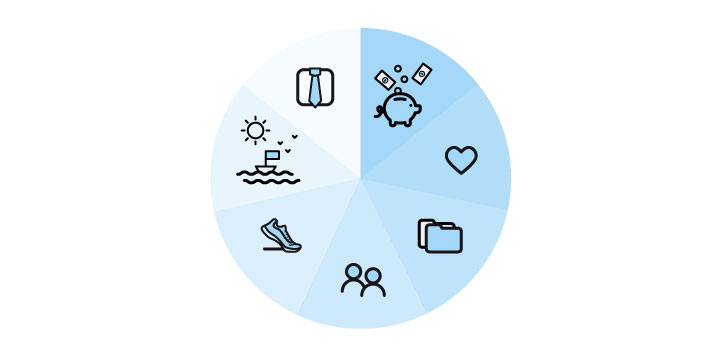 People can become cynical about setting New Year's resolutions. That could be because they've failed at achieving them in the past. With the SMART goal guideline directing your efforts, you'll stand a much better chance of improving your life this year. But where should you start?
You can divide your life into categories to determine the best types of goals to set. For example, there are:
Career goals that will help you stay engaged in and passionate about your work, while leading to your financial goals
Financial goals which could include getting out of debt or reducing the amount of money you waste each month
Health goals that impact you and your family and even your job, whether the goal is fitness or work-life balance
Relaxation goals or leisure goals that could include hobbies or skills development
Organization goals which impact work and finance and can even cut your stress
Relationship goals to help clean up anything that feels uncomfortably messy in your life and work
Spiritual goals which are highly individualized and may or may not have anything to do with organized religion
Keeping these categories, along with the SMART concept in mind, here are 20 sample goals for 2020 that may help further your career and improve your life:
SMART Career Goal Ideas
1. Ask your boss for a 5% raise by the end of the first quarter
2. Build your LinkedIn network by asking three people per week to connect
3. Revise your resume by January 31 and email it to Artisan Talent
SMART Financial Goal Ideas
4. Create a monthly budget on paper or on an app by the first week of January 2020
5. Build an emergency fund by saving $30 each month in the bank starting in January
6. Cut eating out down to one time per week
SMART Health Goal Ideas
7. Take a 15-minute walk after lunch every day at work
8. Embrace meatless Mondays
9. Drink five eight-ounce glasses of water each day
SMART Relaxation or Leisure Goal Ideas
10. Use all of the vacation time allotted by your company this year
11. Write in a gratitude journal three times each week
12. Listen to one self-improvement podcast every week
SMART Organization Goal Ideas
13. Write down your daily goals at work each morning before you answer an email or start a project
14. Track your accomplishments each week in a daily organizer
SMART Relationship Goal Ideas
15. Reach out to an old friend or work colleague once each month in the New Year
16. Set a monthly date night for you and your spouse without the kids
17. Sit down with your boss in the first quarter and roadmap some career goals for 2020
SMART Spiritual Goal Ideas
18. Take a yoga class each month
19. Read a book on spirituality once each quarter
20. Meditate for 10 minutes three times each week
These are just a few examples to get you started, but they're all good goals to consider. If your goal for the New Year is to find a better job, Artisan Talent is standing by. The creative field in 2020 is full of great opportunities. You just need to set your goal and call our team.
Happy New Year to you and those you care about.
–The Team at Artisan Talent