As the biggest city between the coasts, Chicago has been a natural epicenter since major railroad projects in the 1800s allowed for mass export of objects and ideas. Since, we have realized unprecedented projects that aim high in hope and work including the World's Columbian Exposition, the founding of national publications Ebony, Jet, and Playboy, Design for Democracy's national standards for election and ballot design, open heart surgery, fluorescent light bulbs, and the recycling symbol.
Reflecting on our history reveals passion, an entrepreneurial spirit, fierce collaboration, and design for a culture that's stronger than the sum of its parts.
5 Forgotten Projects from Chicago's Design Legacy

Following are five important projects that originated in the city of big shoulders...
1: Artwork for 1892 World's Exposition Chicago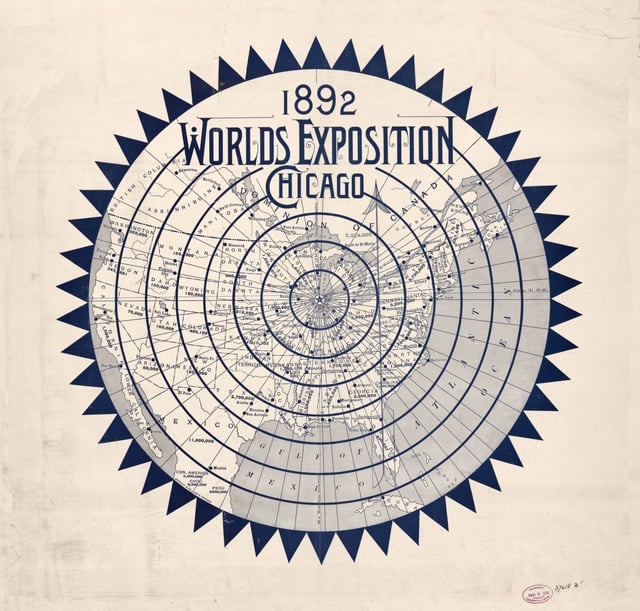 The third star in the Chicago flag symbolizes the World's Columbian Exposition, a celebration of the 400th anniversary of Christopher Columbus's arrival in the New World in 1492. Though the Exposition will never be forgotten, this century-old map was deep in the Library of Congress flat files. Published by Benedict & Co., it utilizes concentric circles, clean lines and beautiful typography, this century-old map marks a significant moment in Chicago's design history.
Image Source
2: Edgar Miller's Old Town House



Edgar Miller, Chicago's long forgotten renaissance man, is about to make a comeback due to the tireless efforts of Edgar Miller Legacy, a new 501c3 non-profit organization dedicated to preserving his memory. Edgar was a highly talented and driven artist, but his ability to translate ideas into any medium made him stand out. His Old Town home includes masterful work in painting, sculpture, printmaking, woodcarving, iron working, stained glass and more.
Image: From The Edgar Miller Legacy

3: Herbert Bayer's World GeoGraphic Atlas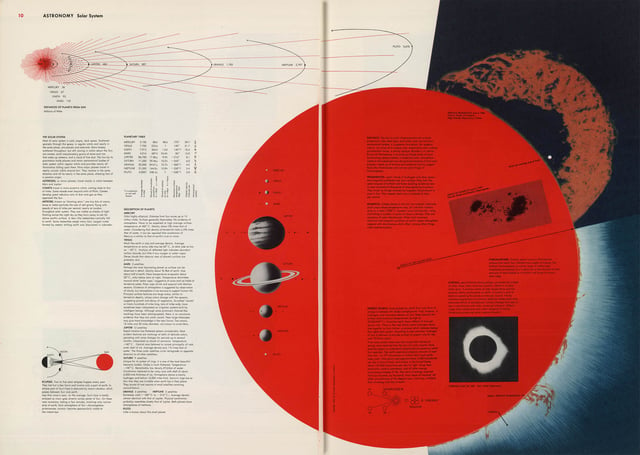 Published by Container Corporation of America in 1953, the World GeoGraphic Atlas is an absolute triumph of business and design under the Bauhaus ideology. It contains 368 pages, 120 full-page maps, and is supported by 1,200 diagrams, graphs, and symbols about our planet Earth. Astonishingly produced before the advent of personal computers, the CCA initially printed 150 copies to be distributed to schools and libraries free of charge. Eventually, others were printed and sold to private collectors.
Image Source
4: The Pioneer Zephyr

The Pioneer Zephyr, built in 1934 for the Chicago, Burlington and Quincy Railroad featured technological innovations including articulated rail cars, stainless steel construction, and shot-welding. The year of its debut, the Zephyr broke a land speed record for travel between Denver, Colorado, and Chicago, when it made a 1,015-mile non-stop "Dawn-to-Dusk" dash in 13 hours 5 minutes at an average speed of 77 mph. Urban planning, transportation design, and alternative transportation methods are a cornerstone of a healthy community.
Image Source
5: Recycling Symbol



In 1970, in celebration of the first Earth Day, Chicago-based Container Corporation of America launched a competition to design a symbol that would raise awareness of environmental issues. Gary Anderson, a 23-year-old college student at the University of Southern California, won the competition, and his mark is now ubiquitous. Its three chasing arrows are sometimes accompanied by the text "reduce, reuse and recycle."

Image Source
Need some amazing design for your own upcoming project?
Artisan can help! Contact us today and let us find you the perfect designer and continue Chicago's design legacy in your company.
The Chicago Design Museum strengthens design culture and builds community by facilitating the exchange of knowledge through dynamic experiences. Learn more and consider signing up for a membership with Chicago Design Mueseum here.
Artisan is a proud sponsor of the Chicago Design Museum