It's important to love your job. After all, you spend so much time there. But many people go to work every day and still feel unfulfilled. Many of them are probably quietly longing for their dream job.
At Artisan Talent, we specialize in finding employees their creative dream jobs. The truth is that many of our gigs look great to anyone not working in the creative world.
But did you know there are creative jobs so cool most of us don't even know about them? They are the creativity-laden cream of the crop. Check these out – but don't quit your day job just yet.
You do WHAT for a living? Cool Job Alert!

Inc. reported on a few interesting creative jobs that most people probably don't know a lot about:
A Voice-Over Artist reads copy for commercials, audio books, or television and film. There are no real qualifications for this role; you can't get a degree in voice-over work. You need a great voice, the ability to verbally emote, clear enunciation, and solid reading skills. The average salary for these creative professionals is $80,000.


If you're a Chief Listening Officer, you monitor social media for mentions of your company or products. A degree in marketing or a field related to social media or public relations is important. CLO's make about $95,000 a year.


Or, you could be a Greensman. Why it's not called a Greensperson, we're not sure. However, we do know that this job requires designing and arranging plants on a film set. This could entail landscaping, cut flowers, or potted plants. A horticultural or landscape architecture degree could be helpful, although not required. A knack for color and landscape is important, along with a creative flair. These workers make around $84,000 per year.


Have some solid design skills and a love of music? Consider becoming a Video DJ. We even know one! Artisan Talent Anna Zulma McFadden rocks out this position. The Video DJ term "VJ" was made popular in the 1990s thanks to MTV, who had personality-style "video jockeys" introducing music videos. Video or Visual DJs can be used by people who DJ exclusively with visuals. Salaries for this job can vary, but the average is around $26,000 a year.
Even More "Sweet" Jobs
Lifehack suggests the following creative dream jobs as ones you may not have heard of – but will want immediately when you hear about them:
A Chocolatier is a chocolate artist. These culinary professionals make confectioneries like desserts and candies. If this doesn't get your mouth watering, nothing will. The only bad news we can think of with this career is the salary

–

just $21,000 annually. But most of us at Artisan Talent believe it's not about the money, anyway.


Since you need something to wash down all that chocolate, try being a Tea Taster. Tea tasters are like the sommeliers of tea. They're required to have a palate for the beverage, tasting, and evaluating up to 200 cups per day. Tea tasters get to travel the world to check out the latest products. The average salary is around $38,000.
Not to be outdone, Career Addict suggests little known, but cool jobs like an ice cream taste tester or a private jet interior designer. Or how about being a Panda Nanny, which is a real thing in China. The job would require you to live on an island in the Great Barrier Reef. Also, you'd have to work with pandas.
What do you want to be when you grow up?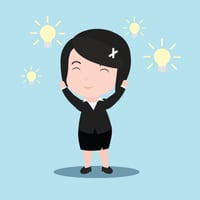 Artisan Talent can help you remember what it was like to find joy in your job.
While we don't get many Video DJ gigs, we do place tons of digital, creative, and marketing professionals every day across the U.S. Check out our open jobs or submit your resume today.
If you're an employer seeking talent we can help find you the right match too. Contact us today.