Ask a Hiring Manager how difficult it is to find qualified job candidates these days. You'll probably get an earful about the historically low unemployment rate, the labor shortage in technical fields, and how everyone that wants a job has one. Glassdoor reports that 76% of Hiring Managers say recruiting talent is their number one problem.
Hiring teams are looking for creative ideas for staffing up in this unusually tight labor market. They're working on culture and partnering with recruiting firms to attract top talent to their companies. One of the newest employment trends Hiring Managers are implementing has them teaming up with marketing executives to create recruitment marketing plans to attract more candidates.
What are the elements of a recruitment marketing plan and how can your company benefit from creating one? Glad you asked.
Understanding Recruitment Marketing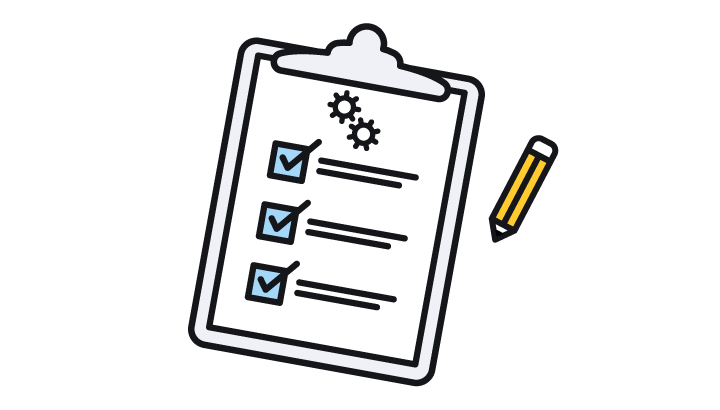 Just from the title you can surmise that recruitment marketing is a combination of recruiting and marketing. This new recruiting technique seeks to cultivate new candidates by reaching them with marketing materials or activities that promote your company. The goals of this marketing subset can vary, but generally you want to:
Create awareness of your company with potential candidates.
Inspire their interest in your company.
Promote your company as the employer of choice in a competitive market.
Drive candidates to apply for jobs with your company.
In today's war for talent, recruitment marketing techniques have helped companies differentiate themselves as employers of choice. Hiring Managers understand that attracting candidates in 2019 requires a persistent effort to stay top of mind with candidates who have many more choices today than they had a decade ago. Companies increasingly turn to marketing as a tool to create candidate awareness and interest.
Recruiting is always enhanced with recruitment marketing. Both the recruiter and the marketing aim to sell candidates on the job opening. Recruiters frequently market themselves and the employer they work for in order to generate interest in a specific job. But recruiting focuses on the one-on-one relationship between the job candidate and the recruiter. Recruitment marketing is the broad brush, using social media, events, and collateral material to paint a favorable picture across a broad candidate canvas.
How to Create a Recruitment Marketing Plan for Your Business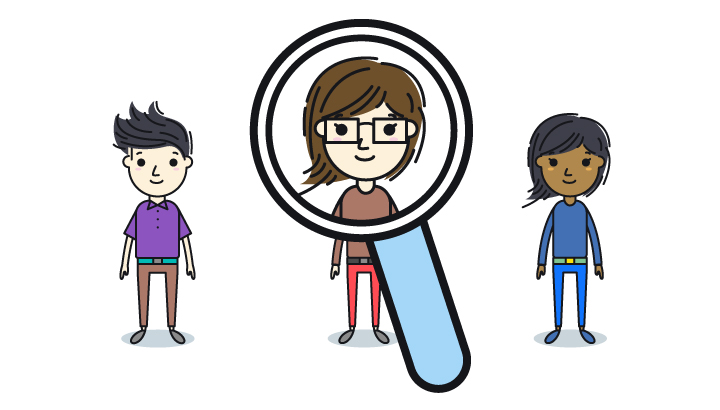 Step One: Establish the Company Brand
The first step in any marketing plan is establishing your company brand. The brand is really the company's unique value proposition that helps it be successful no matter what it is selling.
In this case, the company brand would have more to do with your internal business culture than it would defining what you are selling. Or, to put it another way, what you are selling or marketing is the reason a candidate would want to work for you.
Understanding this brand identity from a recruitment perspective requires knowing the mission, vision, and values of the company. It also involves the value proposition for the candidates you're targeting. That proposition could be the benefits, salaries, perks, or rewards that candidates will receive if they come to work for you. Do you have an on-site fitness center? Is the work the candidate will do particularly compelling? What kind of giveback initiatives does your company sponsor? Is it the teamwork that makes your firm so special.
If you can figure out why a candidate would want to work for you, then you can start to target a whole new audience of passive and active candidates.
Step Two: Find Your Target Audience
The important thing to note here is that the best candidates simply are not likely to apply for your job. The best candidates are probably already employed. Hiring Managers today need to employ one of the same techniques that recruitment firms are experts in: pursuing the passive candidate. Why? Because only 30% of the global workforce is actively looking for a job; conversely, this means 70% of workers are passive talent not looking for a job. The good news is that 87% of all passive and active workers are open to new job opportunities. Defining those passive and active job candidate targets will allow you to reach them consistently and potentially draw them into a new role in your company.
If your company is large, the target audience could vary. You may end up with a large general target audience and then a number of subsets within that crowd. For example, while your general target audience might like to hear more about your employee-sponsored work at a local nonprofit, technical job candidates may be more interested in the cool app your firm is building. Targeting a specific audience in any marketing campaign requires that you know and understand what is important to that audience and then create marketing activity that gets their attention
Step Three: Build a Candidate Persona
Building a picture of the ideal candidate is a necessary part of your recruitment marketing strategy. Understanding the target candidate's skills, interests, what they want to learn, what kind of content they like, and even where they like to hang out are all key to reaching the right people with the right message. To define your candidate persona figure out:
Where do these candidates currently work?
What kind of job titles will they have?
What skills do they need?
What is level of experience do they need to do the job?
Creating a target candidate persona will help you craft a better job description, define your sourcing strategies, and understand the best recruiting channels to reach them.
Step Four: Develop a Strategy to Nurture a Relationship with Your Target Audience(s)
Now that you know exactly who the target audience is, you can start planning to reach them regularly to build a relationship. The reality of today's job market is that every Hiring Manager should be planning for a marathon and not a sprint. The job candidates you're targeting may not be interested in jumping ship today, but there's a good chance that they might be down the road. How are you maintaining these relationships long-term so that when the candidate is finally ready to leave their company, your company's job board is the first place they look? Here are some ways to consistently use recruitment marketing to reach these potential candidates:
Share e-books or reports that your company has developed.
Live-stream a Q&A with a company recruiter or the Hiring Manager.
Share links to social media pages and digital content.
Offer training on how to improve interview skills.
Sponsor a free event and invite candidates to attend.
Start an online talent community around a specific skill set or type of job.
If you're trying to figure out a way to organize all of the recruitment marketing touches that come from this relationship-building work, try following this pattern:
In the first interaction, introduce the company and invite the candidate to check out your job board.
Next, invite the candidate to understand your company culture by sharing a video interview with a current employee.
Then invite the candidate to join you at a career fair or an event to actually make contact.
Personally invite the candidate to apply for the job.
If the candidate isn't ready, ask them if they will provide you with a referral to someone who might be a good fit.
As you can see, this is a laborious and continuing process, but one that's necessary for today's small labor pool.
What Techniques Are Used in Recruitment Marketing?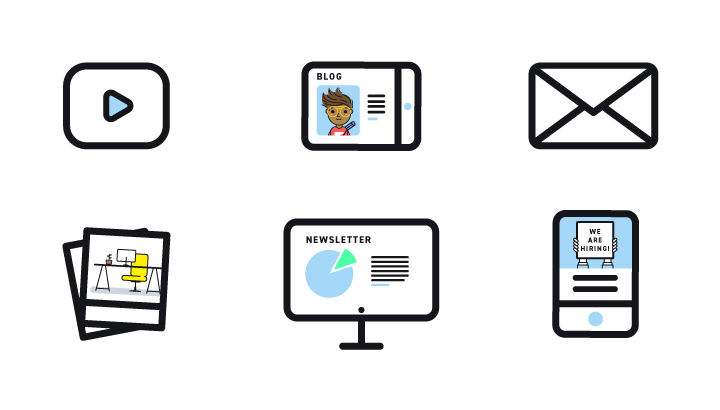 Today's candidates use the same tactics when looking for a new job that consumers use when shopping for new products. This means that the employer needs to stay front and center on the number one location for shoppers everywhere—the internet. Companies that fail to leverage the web with their recruitment messages will fail to find the best talent, no matter how many job ads they place. Recruitment marketing gives you the strategic approach to build your talent pipeline by using these marketing tools:
Career Webpage Portal
Remember to make this content mobile-friendly. Use keywords for search engine optimization (Oracle says 70% of all job searches start at Google).
Content
Content in all of its forms is one of the best ways to reach any target audience, whether your goal is to build sales or attract candidates. The first pieces of content to develop are the job descriptions (JDs) for the roles you're hiring for. JDs can be published online to your website and on job boards, but they can also be shared with potential passive candidates who aren't looking yet. Other types of content include:
Videos from staff that highlight your culture. Try doing interviews with some of the team members from the departments you're hiring into. Or how about a funny video from the recruiting team or a more professional video from your CEO?
Written content can take many forms, from printed recruitment collateral to a blog on your website. A quote from a recently hired staff member or an interview with a team member on what it's like to work at your company are just two examples of written content that will help sell the business or the job you're recruiting for.
Email can be used as a stand-alone strategy to reach potential candidates or as the vehicle to share other marketing efforts. Either way, it should be used to stay in front of candidates throughout their lifecycle.
Pictures of your offices, particularly if they have a cool factor, are helpful. They give candidates a chance to see what the work environment is like. You should also post pictures of your team and the events they participate in, whether they're working at the local animal shelter, attending a company event or happy hour, or anything else that shows positive interactions and happy culture.
Digital newsletters are low-cost but effective ways to get the word out about your company by sharing tips from the recruiting team or interviews with staff. It's important to make the newsletter helpful to your target audience and not just a tool that feels like a sales pitch.
Social media is an important way to get the word out about what you're hiring for. It's another low- or no-cost way to spread the word about the latest job posting you're trying to promote. Don't forget to encourage your employees to promote the company posts on their social pages, as well.
Events
Anytime your company sponsors an event, it builds brand recognition and gives a boost to your hiring team by making the company more visible in the marketplace. Crucial to this effect, however, is making sure corporate hiring teams know about the sponsorship and are participating in the event in some way. Public events, where your existing staff are invited, create an opportunity for your staff to share their experiences as well as why they work at your company.
Branded Items
T-shirts, notebooks, pens, or other items are easy ways to stay top of mind in the job market. If your team is attending an event, can they all wear T-shirts with your company logo? Branding an item like a water bottle could be the icing on your recruiting cake; while it won't bring you candidates, it will give a visual reminder that you're here, you're cool—and you're hiring.
Referral Bonus
One trick that every professional recruiter knows is that you should ask every employee and every candidate for referrals. Many companies offer referral bonuses to employees if one of their colleagues is hired. This is an important incentive because candidates are usually more interested in your company if a friend is working there.
All of these venues should be used regularly to tell the company's story in a compelling way as part of any recruitment marketing effort.
Add a Recruiting Firm to Your Recruitment Marketing Efforts
The irony of sharing all of these best practices is one simple fact: Most Hiring Managers and corporate recruiting teams simply do not have enough hours in the day to use these proven techniques effectively. That's exactly why recruiting firms like Artisan Talent have surged in popularity with Hiring Managers seeking a ready-made network of candidates.
Artisan Talent has been employing networking techniques for years and has a strong set of candidates just waiting to speak with you. Contact us to increase your efforts to find top talent today.