Need to Make Hiring Freelancers Easier?
Then we have the guidebook for you. If you haven't hired freelancers already, chances are you will soon. Over 53 million Americans are freelancing instead of working full-time. That's over 1/3 of the population!
In fact, many freelancers would prefer this type of work and consider it more stable than traditional 9-to-5 jobs. Freelancer Melyssa Griffin says, "with freelancing, you have the power and autonomy to change anything that doesn't fit your vision. This also creates the potential to earn more money, since you're in control of how you earn your income."
Ready to grab some of this talent for your own business? Download the guide here.

In this handy, free guidebook, we'll run down our top 9 tips for making hiring easier...from why you would want to work with freelancers to how to select the right one.
Take a sneak peak at the table of contents...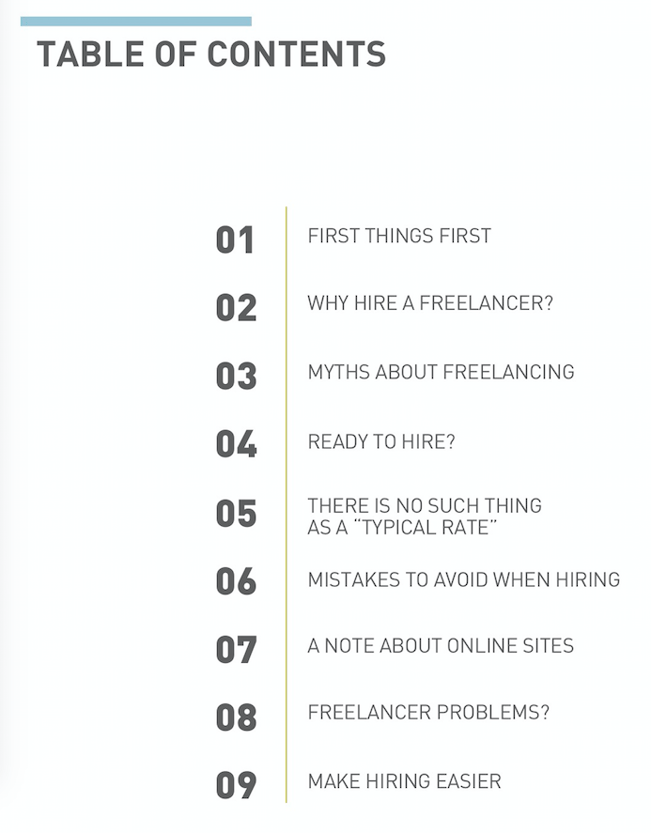 What are you waiting for? Get hiring today! The guidebook is totally free. Click here to download.
Other Helpful Tools