Decided you need some help with words for your website, social media, or newest marketing campaign? It's time to hire a Copywriter!
If you're in need of copywriting help in Chicago, there are three kinds of hiring methods. You can hire full-time copywriters, freelancers, or agency talent. Already know which kind you want? Skip the rest and click here to see who Artisan can match you with.
Not sure what type of copywriting employee you need? Read on!
Full Time Copywriters
Hiring full-time means you're going to take on an employee. As a business owner, that means paying a salary or hourly wage and benefits in most circumstances.
There are advantages to hiring a full-time employee though, especially if there is a heavy workload. With a full-time worker, you always know when the employee will be available. You know how much you'll pay to this worker over the course of weeks, months, or years, too, so you can budget accordingly.
When it comes to Copywriters, a full-time, in house Copywriter can be a great assest. They'll be available for any needs big or small and can help update copy on a regular basis. Many businesses in Chicago employ a full-time Copywriter.
Freelance Copywriters
Freelance workers are ideal for one-off projects or if you have work that doesn't necessarily need to be done in the office. You can pay per-piece, per-project, or hourly rates depending on your needs. This allows individuals to bid on the project or allows you to hire someone who is willing to work at the rate you want to provide.
Freelance Copywriters are great to utilize if you can't afford to hire someone full-time. If you set great rates and find the perfect match, you can have an ongoing, as needed Copywriter to help you.
Freelancers aren't employees, so you don't pay for benefits. If you use a staffing agency like Artisan, you won't even have to go through the work of screening candidates or covering taxes for W2'd freelancers.
Need more information on 1099 and W2 employees?
Watch this.
Ad Agency Copywriters
Think back to the glory ad days of Mad Men. Almost all digital staffing agencies in Chicago have Copywriters ready to make word magic for you. Agencies like Edelman, Starcom, Ogilvy, and others have a slew of Copywriters with different specialities to fit your needs.
Ad agencies also give you the option of hiring many workers from different backgrounds. For instance, if you have a website to redesign, you may want to hire a Graphic Designer, someone familiar with CSS or HTML. Need some SEO or posts to go with your newest social strategy? Maybe you want them all. Call an agency.
Staffing Agencies Can Help Too
Copywriters (and employees of all kinds) can also be hired through a staffing agency. (Not sure what a staffing or recruitment agency is? Read this.)
This is ideal if you don't have time to go through piles of applications for applicants who aren't suited to the job at hand. Need a Copywriter who specializes in medical writing? Or what about a Creative Copywriter for social media? Reviewing portfolios takes time, but when you give an agency an idea of what your job is all about, they'll take the time to look for the perfect qualified candidate - they may even have one ready and waiting.
Agencies do charge fees for this service, but the time you save when looking for an applicant outweighs that fee. You'll be less likely to interview applicants for hours at a time until you find someone who may be suitable; instead, you may have one or two qualified candidates who you can interview for the job, giving you the best opportunity to work with educated and experienced individuals.
Staffing agencies can hire you all of the above types of Copywriters, whether freelance or fulltime.
Need 5 reasons to hire a staffing agency? Click here.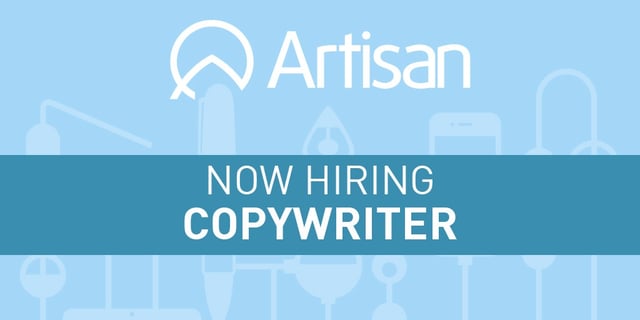 Hire Your Copywriter Today
These are three methods you can use to hire. Hiring a freelance copywriter in Chicago doesn't have to be difficult; using our site, you can hire Artisan Talent to find the talent you're looking for ASAP.
Not sure if an agency is right for you? Download this free hiring tool to find out: