2020 is going to be the year a lot of people land their dream jobs. Or at least a year where young workers are more likely to switch careers. The latest statistics tell us that, unlike the baby boomer generation that stayed with one or two jobs their entire careers, millennials don't see themselves tied to one role for very long.
When young professionals consider a job jump, they often turn to Recruiters to help them find their next opportunity. Recruiters are a great resource to help workers connect with employers.
While the first-quarter job market is expected to offer more career opportunities than people to fill them, some of the best roles will remain elusive as top candidates duke it out to land the best-paying jobs.
How can Recruiters help job seekers reach their career goals next year? We've compiled some advice so you can learn exactly how to leverage the benefits of working with a Recruiter in 2020.
What Do Recruiters Do?
If you've never worked with a Recruiter, it's normal to feel uncertain about what they can offer. The American Staffing Association (ASA) says Recruiters place almost 17 million people in jobs each year. That's a sizable contribution to the U.S. economy and a nice way to help people toward their career goals.
Recruiters work to place candidates in jobs. They can do this as in-house Recruiters working for a specific company or as external Recruiters working for a staffing agency. Staffing agencies work as the outsourced arm of companies to help them find talent (that's you!). Recruiters in staffing firms do a lot more than just hire people—they help candidates prep their resumes and cover letters, manage salary negotiations, stay up to date on labor laws, and more.
While every Recruiter and staffing firm has a different daily workflow, typically their work includes:
An open position from a client. This is when the Recruiter gets all the details on the job, including salary range, the best interview screening questions, benefits including vacation or if the role offers work from home, why the role is open, and more.
Posting the job. Generally, you can find these postings on the staffing agency website, but you'll also see them on job boards. Recruiters post jobs on social media, so it's a good idea to link up with these professionals for a leg up on your job search.
Screening candidates. If the job posting isn't getting a lot of hits (today this is more often true than not), the Recruiter may scour LinkedIn or job boards to find candidates for the position. They may reach out by email or phone with the goal of gauging the candidate's interest in exploring other career options.
Interviewing candidates. This is usually done by phone, and it's a good time for candidates to ask Recruiters questions about the position. If the Recruiter thinks the candidate is a good fit for the job, they will reach out to the client and submit the applicant's resume.
Setting up interviews between the candidate and the employer by phone and in person. The Recruiter usually preps the candidate to prepare them for these interviews. This is one of the key benefits of working with Recruiters, because candidates don't have to go into the interview cold.
Negotiating and landing the job offer. The Recruiter serves as a strategic go-between, handling salary negotiations on behalf of the candidate as well as ensuring job offer paperwork is nailed down. Your Recruiter may even be involved in the onboarding process after the candidate becomes an employee.
Following up after the candidate starts the job. The best Recruiters stay in touch with candidates during their early tenure with the company. It's a good time for the high-performing Recruiter to ask for referrals to other candidates that they can help.
This process differs slightly if the candidate is going into a contract or temp-to-hire position. In these cases, the candidate may receive their paycheck and benefits from the staffing agency and not the employer. Candidates should ask the Recruiter about the type of position upfront to determine what the offer will look like.
Five Things You Might Not Know About Recruiters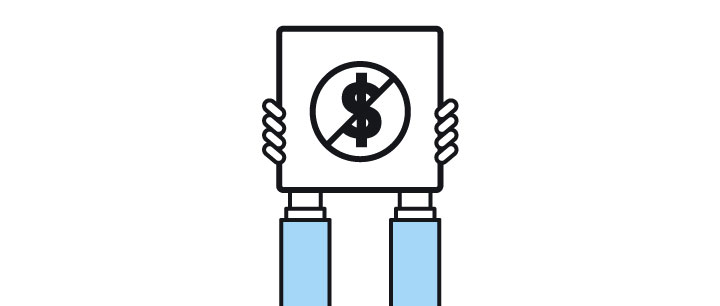 We've covered a lot of ground to help you understand the role of a Recruiter in your job search. Understanding the basics of the recruiting and staffing industry is important. To leverage these professionals well in your next job search, here are five things to know that will help you understand where your Recruiter is coming from:
Working with a Recruiter is free! You would be shocked to know how many job candidates don't realize this. The company that hires you pays the recruiting service fee. This fee is on top of your salary and it typically doesn't lessen what you're paid. Your Recruiter is a great free resource. They see hundreds of resumes every week and can give you advice on format and layout. They can also prep you for the interview and give you behind-the-scenes details about the employer. Listen carefully to the advice from these professionals to improve your chances of landing the job you want.
Recruiters want to find you a job as badly as you want to find a job. It's not just altruism that's driving these professionals to place you somewhere—most Recruiters earn a fee based on your hire. But they're not just placing a warm body in a seat. Typically, their incentives are only paid after you've been in the role 90 days. The theory is that this eliminates any temptation to "churn and burn" candidates. Beyond the money, most Recruiters are in their current roles because helping people motivates them. It's not always about the commission, and if you feel like it is, find a different Recruiter to work with.
Recruiters have to put the best interest of companies ahead of yours. This is important for candidates to understand. The Recruiter bridges the gap between the company and the candidate, but the Recruiter's job is to find the best candidate for the employer that pays the bill. This can, however, work in the job seeker's favor because the Recruiter wants the employer to like and hire you. They are going to do whatever is necessary to present you in the most appealing light to the employer.
Your Recruiter cannot tell you everything. Sometimes, the employer will look for a specific type of person that will fit in with a team or a professional with a particular skill set or some other criterion that the Recruiter can't share with you. Most Recruiters will be as honest as they can be about why you weren't selected for a job, but if you were turned down, don't assume you did something wrong or your experience wasn't a fit. There may be something else happening behind the scenes (like a hiring freeze) that caused them to decline your candidacy. Always ask the Recruiter for candid feedback; just be aware that, sometimes, they can't share everything they know.
Recruiters are probably not experts in your job. The best example of this is Technology Recruiters, who grow pretty comfortable with the general lingo but usually aren't programmers. They probably won't be able to get into an in-depth discussion about a technical project you worked on; however, they know the field and the company you're targeting. Make sure you ask the Recruiter how long they've been working in the industry and why they think your background is a good fit for the role.
Just like each Recruiter is an individual with a unique approach, style, and work ethic, there are also differences between staffing agencies. How can you pick the right agency with the right Recruiters to help you in your search?
Are There Differences Between Staffing Agencies?
Executive search firms, staffing agencies, employment agencies, and recruiting firms—over the years, these titles have blurred a little, but generally, you can expect:
Executive search firms are sometimes called "headhunters." They focus on the high-level jobs in the corporate world, whether it's Physician Executives, Vice Presidents, or Chief Financial Officers.
Staffing agencies usually focus on jobs below the executive level, but not always. They often fill temporary roles, but not always. They may or may not also offer benefits and payroll services to candidates as part of the services they offer employees.
Employment agencies are like staffing agencies. They may have an existing pool of candidates that they work with to go out on temporary or contract jobs, or they can offer temp-to-hire or even full-time placements.
Recruiting firm can be a more modern term for staffing agency. The lines have blurred over the years so that a recruiting firm could offer staffing services to fill temporary roles. Or, recruiting firms can supply employers with a cadre of full-time workers.
Recruiters work in all of these types of firms in every industry—from healthcare, engineering, hospitality, accounting, and technology to creative fields. Some firms staff in a specific industry niche, providing candidates for just manufacturing and construction and nothing else. Or, like Artisan Talent, they can provide a particular type of job candidate (creative talent) for any type of industry. Some staffing firms even mix it up and specialize in a few of these different areas.
The positions Recruiters hire for can include full-time, employer-hired candidates, temporary staffers, contractors, temp-to-hire, and more. Companies come to staffing agencies to seek help when they can't find the workers they need. These can be long-term client/staffing agency relationships where the recruiting firm acts as the long arm of the company. These can also be short-term relationships to help with staffing during certain times of the year. No matter the client relationship, though, staffing agencies learn a lot about the employer, the culture, and the job before they ever start looking for the perfect candidate match.
With all of these choices, how can you pick both the right agency and the right Recruiter to entrust with your job search?
Look for staffing agencies with a great track record of linking employers and skilled workers. Artisan Talent was honored again this year with best of staffing awards, consistently ranking in the top 2% of the most successful professional recruiting firms in the nation.
Benefits of Contracting Versus Full-Time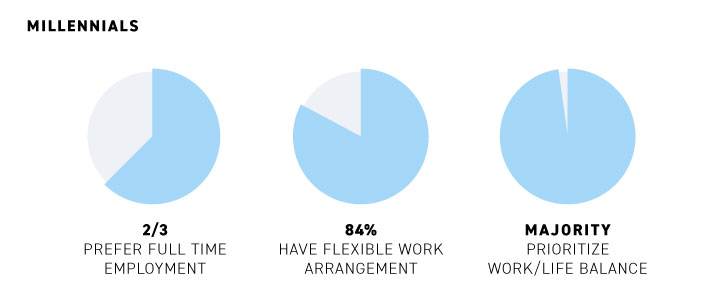 Beyond considering the merits of a particular recruiting firm, you must also determine if you want your next job to be a contract or full-time position. There's no right or wrong answer when considering contracting versus a full-time job, but there are benefits and drawbacks to both options.
According to Deloitte's 2019 Millennial Survey of nearly 8,000 young workers across 30 countries, it appears an increasing number of today's workers prefer full-time employment but want the flexibility that contract work offers.
The study found:
Nearly two-thirds of millennials still prefer full-time employment
But 84% have some sort of flexible work arrangement in their job
The majority of millennials want more freedom and work-life balance and are willing to give up a full-time role if it is too rigid
With these statistics in mind, contracting may be the best choice for flexibility, allowing candidates to take on different roles for short time periods. It's also a great way to learn new skills quickly. Contracting usually offers higher salaries because employers don't have to offer benefits. Typically, the recruiting firm covers the overhead associated with the hiring arrangement, including health insurance and other benefits.
In some instances, the best of both worlds is the contract-to-hire role. The candidate can try out the job, and if it's a good fit, the employer can bring them into the role full-time. Talk with your Recruiter about the best options in your particular field and job market.
In 2020, Work with Recruiters to Make Your Dreams Happen
Now that we've shared the ins and outs of working with a recruiting firm, we'd like you to consider Artisan Talent. If you're reading this blog, you are probably a job seeker with creative skills. Call us today to find out why we are consistently ranked as a top creative staffing firm in the United States.