This blog is a part of a series on the pros and cons of remote working. Today we're highlighting the difficulties. Make sure to check out Part 1 with the Pros here.
---
Do you find yourself fantasizing about ditching a miserable commute and disruptive office environment for working remotely, gleefully wearing the same pajamas for days on end while cranking out the most prolific work of your career? In case COVID hasn't already made this a reality for you, beware—remote work comes with a few challenges of its own, so read on before you fully take the plunge.
Loneliness and Isolation
Maybe you've overheard one too many loud sales calls in an open office and the idea of having your own quiet space to work sounds like a refreshing vacation in itself. Whatever your motivation for leaving office life behind, don't discount the loss of social life that comes with it. One in five remote workers reports struggling with feelings of loneliness and isolation. If possible, come into the office once or twice per week to strike a balance between productive isolation and getting your weekly water-cooler talk fix.

Blurred Work-Life Boundaries
When your office is also your home, your personal and professional lives can start to merge together. "It can be hard to log off and stop working when you're remote," says Katherine Conway, a remote copywriter. Personal ambition isn't the only thing getting in the way of setting firm boundaries. Sometimes cultural pressure to "prove" how hard you're working makes the initial transition to remote work more stressful. "I've felt that burden of guilt related to my work many times in my life, but especially so when I first started working remotely," says Jennifer Spoelma, a career coach. Use timers, eliminate distractions, and set expectations with your coworkers upfront.
Complex Projects Are More Difficult
Remote work proponents love to cite studies that claim big improvements in productivity from remote workers. Remote isolation can be great for self-contained tasks like addressing customer service tickets (or writing this blog post!). But complex projects, like developing a new software product or brand strategy, require frequent collaboration and communication that's made more difficult with distance. MIT professor Thomas J. Allen looked at communication patterns among scientists and engineers and found that the farther apart their desks were, the less likely they were to communicate. At the 30-meter mark, the likelihood of regular communication approached zero. The implications are clear—the cross-pollination and rapid exchange of ideas required for complex projects are stifled with distance.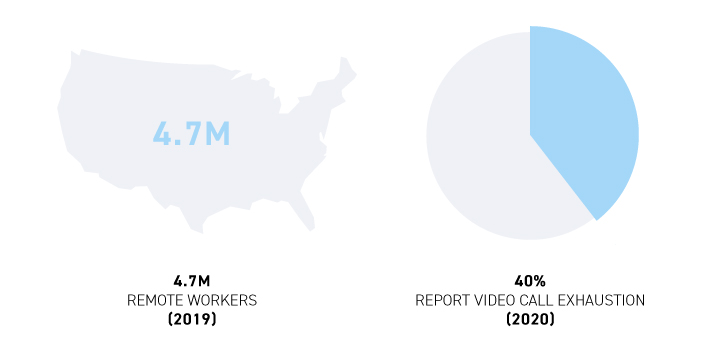 Collaboration and Communication is Less Convenient
A recent survey showed 40% of employees reported feeling mental exhaustion from video calls. It's not surprising—poor connections, lag time, and other technical issues are frustrating and more difficult to resolve than tapping on a coworker's shoulder to remind them about a meeting.
Building rapport with other people is also a lot easier when you're in the same room. In-person meetings let you pick up on micro-communications like body language and facial expressions that are stripped out of email and chat or stunted by lag on video calls.
Self-Discipline and a Dedicated Space are Required
Getting out of the home and into an office primes you for work in the same way that going to the gym primes you to sweat. The space you're in affects your mindset, and not everyone has a perfect nearby cafe or home office setup conducive to doing their best work. Besides that, kids, fur babies, spouses, Netflix, and laundry—the list of at-home distractions are endless and it can take a lot of self-discipline to stay focused. Working remotely requires a combination of dedicated office space and the ability to shun distractions to be effective.
Stifled Career Growth
Especially at the beginning of your career, a hidden component of your remuneration is the knowledge, experience, and networking connections gained from working alongside seasoned people in your field. When you go remote too soon, you can lose out on this critical mentorship and fellowship and find yourself in an unenviable career stagnation. Working remotely also doesn't help you learn how to deal with "messy office-ready skills like building consensus, having productive disagreements, and advocating for [your] ideas."
If you do decide that full-time WFH life is for you, make sure to review our other remote working resources:
---
Whether or not the pros outweigh the cons of working remotely for you, let us know! Artisan specializes in connecting great remote talent with remote-friendly companies.