We want to say thank you. It's Artisan's clients and talent that make our business great! To show our appreciation, we've created a "thanks for being great" referral program.
Great people know other great people. We're always looking for great people to share their digital and creative skills with our clients and vice versa.
If you know any great businesses that needs staffing – or talent to work there – let me know. You'll be rewarded with up to $1,000 per referral!
Here's How It Works: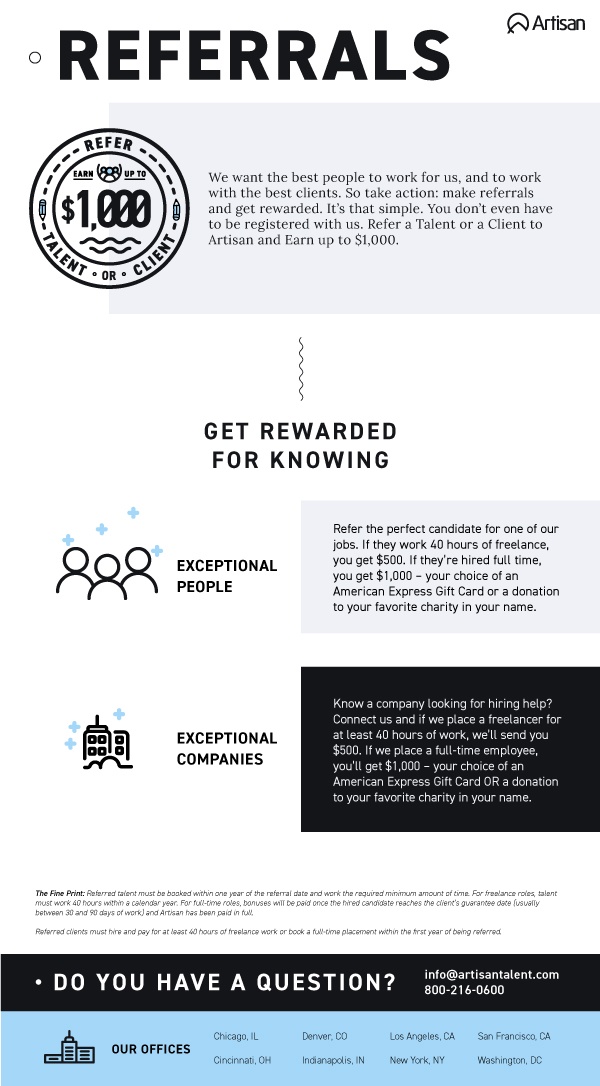 Program Details:
WHEN: Right Now!
JOB PLACEMENT: Refer the perfect candidate for one of our jobs. If they work 40 hours of freelance you get $500. Or if they're hired full time, you get $1,000.
CLIENT REFERRAL: Know a company looking for hiring help? Connect us and if we place a freelancer for at least 40 hours of work, we'll send you $500. If we place a full-time employee, you'll get $1,000.
You have the choice to accept an American Express Gift Card or a donation to your favorite charity in your name.
HOW: Contact Artisan at info@artisantalent.com or submit a referral here. You can always call us at 800.216.0600 too!