Remote is the new black, right? Today, flexible work arrangements are everywhere, from the part-time worker sitting next to you to the freelancer writing your corporate blogs. But not all of these remote workers operate under the same types of arrangements. Today, there is a lovely rainbow of diversity in the way we employ our workforce.
With freelancers, many of them offsite workers, dominating the workforce, freelancers are predicted to become the U.S. workforce majority within a decade, the "Freelancing in America" study by Upwork and The Freelancers Union found.
So if this is the new normal, let's look at five of the most common types of remote arrangements and how you can help support their efforts to build your business.
Don't Forget: Remote Doesn't Mean Distant
Surveys tell us that over half of all employees will likely be working outside the office by 2020. One of the biggest challenges for all remote employee arrangements is that they can sometimes feel out of the loop when it comes to corporate culture.

This is a consistent issue across all five types of remote workers, but there are ways to mitigate this issue.

The 5 Types of Remote Workers
Home Office Workers
These are the full-time telecommuters who may exist outside your time zone. Keeping the connection strong means making sure they have access to all the tools and documents your team uses.

That makes project management software like Basecamp (which Artisan uses) crucial to keeping them on task. During team meetings, invite these outliers to join in on Skype, or host a Google Hangout, so you can see their smiling face; it will help them know you care. (P.S. Yes, they can still wear their bunny slippers to the meeting.)


Road Warriors
The roadies are those poor, lonely sales execs, consultants, or technical support teams that have massive frequent flier miles and a world-weary approach to waiting in line at the airport. You need to be sure these team members have always-on access to work from anywhere they are.

Support these world travelers by using an integrated software platform that shows every client contact in one place (whether it's sales, marketing, billing, or operations). They'll appreciate knowing about any customer service issues in real time before they walk into that client meeting.


The In and Outers
These are the team members you actually see in the office once or twice a week. You can make them feel more at home by ensuring they have a comfortable place to work when they actually are in the office — but also have remote access when they're working somewhere else.


8 Days a Weekers
The 8-days-a-week employees are the ones who work all the time. You may have the opposite problem with these employees; helping them find some balance between work and home life. Make sure these workaholics join in at happy hour and have some fun.


Flex Timers
The flex timers are the ones who occasionally need to work from home. They may have a sick child or dog, or car trouble, but for whatever reason, they occasionally need to work from home. For those with offices in Minnesota, these workers are super-productive; neither rain nor 16 inches of snow will keep these workers from producing.
Bottom line? Don't flinch when someone comes to you with one of these work situations — it doesn't mean you'll lose productivity.
How Do You Hire Them?
Don't panic! Hiring freelance or remote-working talent doesn't have to be hard.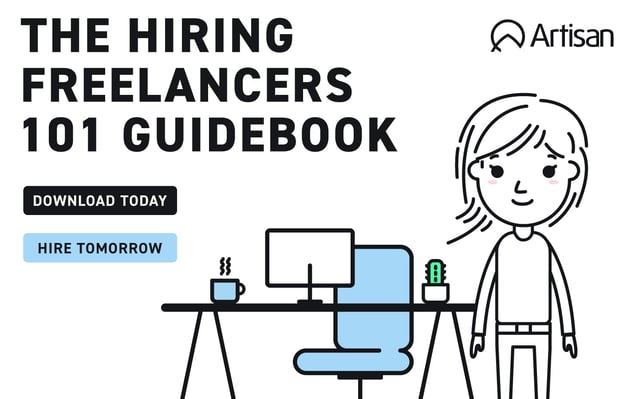 We made a guide just for hiring freelancers that you might find helpful. Click here to download the free pdf.
Need Help?
When it comes to creative talent, we are familiar with all of these remote arrangements. Which type would be best for your business? How many should you hire? Contact us — we can help.