Every great employee in your organization is more valuable than ever before. That's exactly why companies should work harder today to retain their best employees. But how can you do that when the competition for skilled workers is so fierce?
Smart management strategy recognizes that hiring new workers is more expensive than retaining existing employees. The costs of replacing an employee include the initial separation (unemployment, benefits, severance) and recruiting to fill the role. But productivity can also suffer, as the remaining employees try to pick up the slack. Customers may feel neglected and current employees could burn out.
Losing a good employee can create stress fractures across a functioning organization. Those fractures may deepen if it takes a long time to hire a replacement. Given that we're in the thick of a labor shortage, searching for a replacement employee could cause a small organizational sprain to worsen into a compound fracture. But there's an answer to all these problems—keep your best employees long-term.
Retention Is 2020's Hot Labor Issue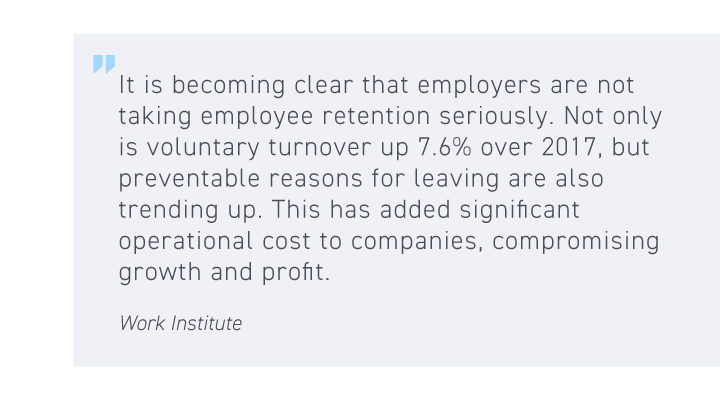 The downside of having a solid economy is the stubborn shortage of skilled workers. The lack of qualified workers is so acute in some fields (like healthcare and IT) that some positions remain open for years. This negatively affects productivity and profit, as well as how quickly you can get your roof repaired or make an appointment to see a doctor. According to Hays U.S. Salary Guide, 92% of employers say the lack of skilled workers is negatively affecting their business.
This makes worker retention a huge issue for 2020. CNBC says 60% of enterprise organizations predict that they will employ a smaller workforce next year partially because the current labor pool is tighter and retaining workers is much more difficult. Still, some employers don't understand the importance of employee retention.
The 2019 Retention Report from the Work Institute says:
"It is becoming clear that employers are not taking employee retention seriously. Not only is voluntary turnover up 7.6% over 2017, but preventable reasons for leaving are also trending up. This has added significant operational cost to companies, compromising growth and profit."
The report culled data from more than 250,000 employees. It predicts that more than one in three workers will voluntarily quit their jobs each year through 2023.
In 2018, 41.4 million U.S. workers job jumped of their own volition. That's an 8.3% increase from 2017 and an 88% increase from a decade earlier. If this trend continues, the Work Institute says voluntary turnover will place companies at "continuous and enormous risk" over the next few years.
Turnover costs US employers more than $600 billion annually. (Cue cash register sound.)
How should employers respond to turnover being the new normal?
Retention, Retention, Retention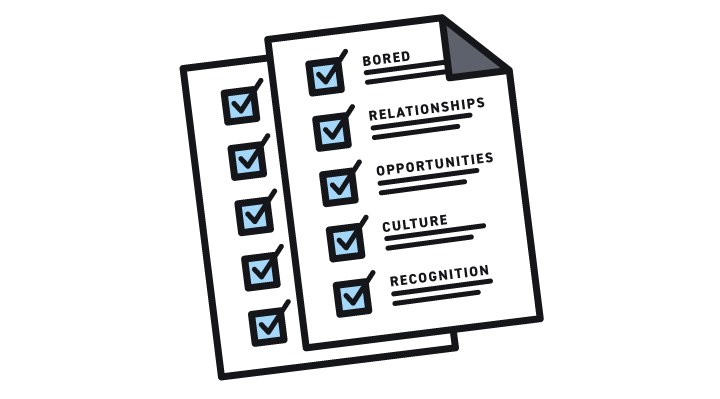 "Employees are in control of the employer/employee relationship. Employees have choices and they are increasingly using their control to leave their organizations to work somewhere else. Organizations must accept this reality and start to listen to the preferences, expectations and intents of their workers."
The costs of turnover should cue employers to work harder in order to keep their best employees. The Work Institute says if U.S. employers reduced preventable turnover by 10%, they would save $47 billion. That number shoots up to $95 billion if they reduce turnover by 20%.
Why do workers leave their jobs? The Balance Careers cites 10 primary reasons:
Bad relationships with a supervisor
Bored or unchallenged by the work
Bad relationships with coworkers
A lack of opportunities to use their skills
A feeling that they don't contribute to the organization's goals
Micromanagement or a lack of job autonomy
Work that has no meaning beyond the paycheck
Financial instability of the organization
Overall corporate culture
No recognition of their job performance
The Work Institute did a deep dive into why employees leave and say that 77% of the cases they studied were preventable. They divided the reasons employees leave into seven categories:
A lack of career development in the type of work, along with confidence in job security
Work-life balance including a flexible schedule that allows employees to avoid a rigorous commute
Manager's behaving badly, including unprofessionalism and generally poor treatment of their workforce, lack of communication, fairness, and incompetence
Compensation and benefits that are below regional averages or that failed to increase over time
Well-being of the worker such as concessions for pregnancy or family commitments or general health
Overall job characteristics such as work overload, no training, access to needed resources, or general dissatisfaction with the work itself
A work environment that is toxic, unsafe, or hostile, problems with coworkers, or just a mismatch in cultural fit
The study found that there were gender differences in why workers quit. Women were more likely to leave due to manager behavior, while men left more often for career development.
Improving retention benefits your customers, corporate profits, and everyone in the organization. Here are some suggestions for keeping your workers happier, more engaged, and on the job longer—even when a hungry recruiter calls.
Tips to Improve Employee Retention

Just like customers, employees are on a journey with your organization. Dividing retention into segments based on this journey is a good way to launch an initiative to improve the experience. Let's start with recruitment.
Attracting Talent
If your salary and benefits aren't competitive, you'll have trouble attracting new employees. Remember that the benefits you offer extend beyond health insurance, 401(k), and vacation—they also include flexible work-from-home arrangements, catered meals, and a great office environment. Workers are attracted to clear corporate missions, visions, and values. These should be shared as a way to describe your culture and attract workers to your team. Hiring teams, including your recruiters, should clearly communicate details of the job, sharing realistic expectations of the responsibilities and the work environment.
The work to retain employees starts the first day the employee signs the new hire paperwork. Companies should start the new worker off on a good note through:
Onboarding
Make the new employee experience a good one right out of the gate. Carefully onboard workers to teach them about the job, company culture, benefits, and mission. This will set the tone for their entire time with your firm.
Mentoring
Consider pairing the new worker with a mentor to help them acclimate. Mentors can make new employees feel more at home. They probably shouldn't be direct managers of the employee, but they should be someone you think would naturally hit it off with the new employee.
Career Roadmaps
Train your managers on how to partner with the new employee on a career roadmap for their goals, training opportunities, and ways to advance.
Now, turn your attention to engaging existing employees. The best workers want to excel but companies must give them the tools they need in order to do that. Employers can help by creating an environment in which the workers want to succeed. To do this, companies must create cultures that embrace:
Collaboration and Teamwork
Building strong working relationships among teams is critical for improving productivity, but it's also important for employee retention. The right kind of team building can warm up your office by fostering strong relationships between individual employees. Studies tell us that having a best friend at work keeps employees on the job longer, so a company culture that builds trust and fosters relationships will help your retention efforts.
Flexible Work
4.3 million U.S. employees work from home at least half the time, and an increasing number of young workers say they are attracted to jobs that offer this flexibility. Studies tell us that 95% of current employees want the option of working from home and 74% say they would quit their job to take one that offers this option.
Change
Maintaining transparency and managing change well are key to making your employees feeling secure. Communication is tough to get right, but when you do, it creates an authentic workplace environment that builds trust. Communicating frequently and consistently from the top of the c-suite to the workers on the bottom floor of the organization will help employees feel more confident in the company and secure in their jobs. Sharing the "why" also promotes worker buy-in of corporate initiatives, whether it's a technology rollout, a new policy, or a downsizing or restructuring.
Wellness
Encouraging workers to stay fit and healthy is good for business. Beyond being the right thing to do, it can lower employer healthcare costs. Wellness isn't just physical health. Offering stress management programs is just as important as giving discounts for the local gym. Financial health is also important, so retirement or other savings plans are important components for supporting employee wellness.
Work-Life Balance
Be careful. Some company cultures end up rewarding employees for overwork, which can lead to burnout. Instead, monitor employee vacation time and encourage workers to take it. Make sure managers aren't abusing instant communication to keep employees on the hook after hours. A company can and should reward employees that have lives outside of work. If work requires extra hours, make sure employees are coming in late the next day to compensate.
While we know that people leave companies because of toxic work environments created by supervisors, companies sometimes do a poor job at communicating what is expected of managers, which creates a cycle of dysfunction. Managers should be taught the following techniques in order to better run departments:
Open Communication
Every employee should feel like their opinions, efforts, ideas, or concerns matter to managers and the organization. Managers should be trained in how to coach and conduct regular performance reviews with workers, rather than waiting for annual reviews to offer feedback. The goal is to make sure employees understand what is expected of them and then engage them in their own success.
Performance Reviews
Consider 90-day, sixth-month, and annual performance reviews that allow opportunities for financial or other rewards, as well as a discussion of goals and advancement. Create an open door and open dialogue policy with managers. The manager should discuss the employee's future with the company during reviews and ask for feedback on how the employee feels about their work and the company.
Recognition and Rewards
Everyone wants to feel appreciated for the work they do every day. Managers should regularly thank workers for their efforts, verbally but also with rewards when they go above and beyond. Acknowledge big and small milestones with big and small perks. From gift cards to catered meals, showing workers how much you appreciate their efforts will help you retain valuable employees.
Stay Interviews
A stay interview is a one-on-one discussion with existing employees to help HR teams and managers understand what the company is doing well and what they should improve upon from the worker's perspective. These tools help build trust between managers and workers. These sometimes work better than the traditional employee satisfaction surveys because they are one-on-ones with managers or HR team members that allow workers to ask questions, offer ideas, and create action plans for employee engagement and success.
Turnover in the first year of employment is particularly high, but all employees are vulnerable. Employers must devote resources to retaining employees throughout their tenure with the company. It's a strategic imperative.
Investing in retention pays companies back. The Work Institute says a $100,000 investment in employee retention will pay for itself if it keeps just seven employees from leaving.
Employee retention starts with finding the right person for the right job. That's where Artisan Talent can help. We partner with companies to find the right employee fit, working closely with hiring teams to help define the environment, culture, and compensation package. Talk to our team about your 2020 hiring goals.