What is the number one characteristic that any marketing professional needs to have today?
The answer is adaptability.
That's because marketing practices are changing at the pace of the digital blips and bloops on your devices. A decade ago, we were just exploring the internet as a new e-commerce tool. Algorithms for data capture were unsophisticated and evolving. SEO was nowhere near the mobile-first strategy we see today. The President certainly wasn't tweeting his opinion about anything, and web personalization was nothing more than a twinkle in Steve Jobs's eye.
The internet has made change not only constant but actually the one thing marketers can depend on. Having the agility to ride the latest wave of digital disruptors is what sets a marketing firm apart. The best marketers understand that innovation means rising above the digital noise to make a consistent and lasting impression on a target audience.
But you knew that already. The question is — how do we continue to do this for our clients in an ever-evolving and information-saturated digital marketplace?
Considering what we've seen in the last 10 years, the marketing techniques we use today will probably be different by 2025. This article looks at some of the skills marketers should be honing to prepare for the next five or 10 years.
Predictions for the Future State — What Is Reality?
Here's our big tip: Learn all the tech for 2025. Boom! Done.
There's a funny scene in Arnold Schwarzenegger's movie, Total Recall, where the disguise he's wearing malfunctions and he says, "Get ready for a surprise!" and then explodes. That's pretty much what we're expecting in the next 10 years as we experience the digital melding of devices, people, and professional services. Gartner calls it "the intelligent digital mesh," and marketers would do well to take a crash course in artificial intelligence, autonomous devices, and machine learning algorithms to prepare for what's ahead.
3 Skills You Need for the Future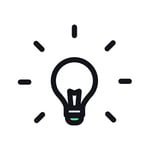 #1 The Bots Have It: AI
While AI has been around for decades, technologists have failed to operationalize and monetize an AI solution for the average consumer. But watch out — the big surprise for AI is that it's about to explode into a business near you.
Take a gander at the new partnership between IBM's Watson (an AI platform) and H&R Block, a traditional accounting behemoth. Today, you can get your taxes done by an AI platform — and this technology innovation is just getting started. Instead of the traditional tax experience, consumers visit H&R Block to talk to a computer screen that actually does all the work. Although there is a helpful human in the room as decoration, the truth is that a machine is taking in the data by asking the consumer questions and then preparing the form.
The perfect storm of scalable cloud storage, big hardware processers, machine learning algorithms, and big investments have made AI applications more accessible than ever before. Tractica says the market for this technology will hit $36.8 billion in 2025. Marketers preparing for 2025 should learn as much as possible about AI because it seems likely that it will finally drive big changes to consumer products and business applications.
Gartner says:
Over the next few years every app, application and service will
incorporate AI at some level. AI will run unobtrusively in the
background of many familiar application categories while
giving rise to entirely new ones.
Want to learn more about AI? Check out this in-depth read about artificial intelligence and how it relates to the job market.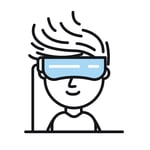 #2 Let's Get Virtual: VR
Another technology that will prepare marketers for 2025 is virtual and mixed reality. From a marketing perspective, this technology will actually be part of an immersive customer experience for many cutting-edge brands. Watch brands like Apple, who recently released their ARKit for mobile devices, and Google with their ARCore.
By 2025, we predict that mixed reality applications on our smartphones will be a standard part of the experience. How will that affect multi-venue advertising campaigns? Just use your imagination.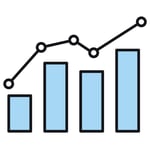 #3 It's the Data, Dummy
Here's a next-level skill for 2025: Metadata. Grab it, slice and dice it, and use it for actionable insight. "Data-driven marketing decisions should be everyone's highest concern," says social media software company HeyOrca! We've got data from everywhere now, so the challenge for 2025 is going to be knowing (finally) how to use it.
Here are some ideas for how we'll be using data in 2025 (some of these are already happening):
Use smartphone geo-location to text coupons to consumers that travel near a particular retailer
Improve supply chain through IoT-connected refrigerators
Cisco suggests metadata will be used to change rendering standards in television, "enabling in-show modification of complex moving objects"
Tailor the path of just-in-time advertising to fit an audience's behavioral characteristics with digital ad decision systems
If you're trying to develop new skills for 2025, look to companies like Cisco, who suggest, "Agencies, media-buyers, aggregators, and studios need to start today by developing audience-tracking capabilities; better metadata that describes video, scenes, and technical production details; and new analytics to better predict viewership, timing, and demand."
The Final Word: Tech Is In, Don Draper Is Out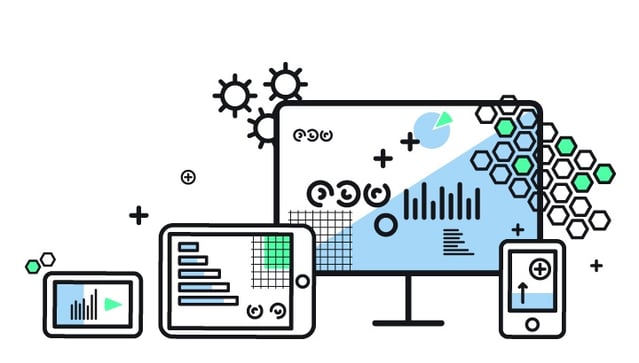 Noah Brier, co-founder of Percolate was quoted in Fast Company as saying, "Over the next five years we'll see technology…become a part of the core fabric of marketing itself."
Technology immersion is really the newest trend in this old profession. Although we've used tech for years to sell products, the complexity of the channels and markets, coupled with the need for immersing a target audience with a consistent brand image across the digital universe, is what will finally tip the scales from using tech as a marketing tool to making it the marketing tool by 2025.
However, it's important to note that these complexities highlight that we will continue to struggle with end-to-end attribution. When everyone is constantly connected everywhere, it increases opportunities for marketing reach, certainly, but it also creates problems for the analyst struggling to determine what really prompted the consumer to make a purchase. Our best guess is that we'll still be running focus groups in 2025 — so some of the more traditional marketing skills will still be important.
By 2025, having the Don Draper-like understanding of what makes people tick will still be important. Good instincts will always make you better than the average marketer. The big difference is that good instincts just won't be enough. That's why understanding digital technologies and frameworks is the most important skill you can learn for 2025.
To find out more about what skills will prepare you for a future in the creative fields, talk to our Talent Team today!