If you're in business for yourself, how can you prepare for retirement?
But freelancers have more skin in the savings game. After all, they don't have paid vacation or sick time. If you're a freelancer and you don't work, you don't get paid.
Here's how to create a financial cushion for retirement — or just give yourself some breathing room between jobs.
The Sad State of Our Financial Freedom



CareerBuilder says living paycheck to paycheck is the norm for most Americans. Its 2017 study found debt and overspending have put most of us on a money-making treadmill:
78% of Americans have no financial cushion
Nearly three in four workers report being in debt
More than half of minimum wage employees work more than one job
Nearly one in 10 workers making $100,000 or more annually still live paycheck to paycheck
Debt is a big part of what holds us back from financial freedom, including saving more. The average credit card debt per American household is $8,500. But healthcare debt drives more Americans to bankruptcy each year than credit card debt.
Student loans, car loans, credit cards, mortgages — we're a culture built on debt and every age bracket carries its share. Here's the average total debt load by age category, according to debt.org:
Under 35 $67,400
35–44 $133,100
45–54 $134,600
55–64 $108,300
65–74 $66,000
75 and up $34,500
When you're carrying this kind of debt, it's harder to squirrel away extra money. Many employers have 401(k) or other retirement options that are automatically taken from full-time employees' paychecks to help them save, but if you're a freelancer, whether full-time or part-time, saving for a rainy day is entirely your responsibility.
Freelance Retirement Is Possible


Today, thanks to digital technology, everyone can be an entrepreneur from the comfort of their couch. Whether they're self-employed, independent contractors, temporary help, agency workers, or on-call workers, freelancers are responsible for finding clients, billing, filing taxes—and saving for retirement or other times when they won't be able to work.

Money magazine cautions:

"In absence of ready-made retirement plans, automatic withdrawals from paychecks and, last but not least, matching contributions, gig employees need to have as much gumption about saving as they do working."

But how well and how much are freelancers saving for retirement? Pew looked into the issue and, frankly, sounds worried about what it found, pointing out that independent workers are much less likely than full-time employees to have even a retirement plan:
"Many independent workers may enter retirement without adequate savings or Social Security benefits. They may face impoverished retirements or may be unable to retire."
Freelance work is characterized by greater freedom, but also greater responsibility. Independent workers who are not part of traditional employment lack benefits, such as employer-provided health insurance, overtime pay, unemployment insurance, and pension or retirement. According to Pew, 41.9% of wage or salary workers contribute to a retirement plan, while only 7.8% of self-employed sole proprietors and 18.8% of gig workers contributed.
Attention freelancers: If you ever want to stop working, those numbers are way too low.
How Freelancers Can Save for Retirement
Forget retirement — if you're not intentionally saving money, your finances become a dangerous game that could leave you one paycheck away from losing your car or your house. But how can you even begin the process of saving when there's so little left over after the everyday expenses of living are paid.
The answer is to treat saving like it's part of your business. Freelancers have many of the same struggles as small business owners: finding clients, keeping billing straight, collecting payments, and paying taxes. If you're successfully running a few gigs, you've already proven that you're organized enough to do what many people can't. Savings is just one more thing you need to add to your small business.
But there's something about the act of putting money aside that can throw a mental roadblock between you and a healthy financial cushion.
Financial expert Suze Orman says the best time to start saving is right out of college, even though young workers are saddled with big debt and future retirement is a long way ahead. You can and should start saving now — no matter your age or income. The first step is to get a handle on your budget to determine where you can carve out a few pennies each week to go in that pink piggy bank on your desk. If this sounds like an insurmountable goal, why not take advantage of a free app to do it for you?
NerdWallet suggests checking out:
Mint: A free app with more than 20 million users, Mint can help you track every purchase according to category so you can see where your spending habits are leading you astray. It can link to savings and retirement accounts so you can see how your investments are performing. In addition to helping you budget and save, Mint can alert you when you're about to get into spending trouble.
EveryDollar is another free app that's tailored for zero-based budgeting, a technique that makes sure your expenses do not exceed your income. The app lets you create a budget each month, which is perfect for a freelancer's variable income, and then create a transaction for everything you spend.
Once you get a handle on your budget, Money magazine suggests several ways that you can start saving right now:
Get into the savings habit by setting aside funds regularly. You can do this with the help of your bank; many have round-it-up programs that take the difference from what you purchased and place it in savings. Online bank Chime has an app that rounds up on every purchase and saves the rest. Members can also automatically transfer 10% of each paycheck into savings.
While traditional employees spread their savings across each paycheck, a freelancer's budget may require a more strategic approach. Once a certain savings threshold has been reached, freelancers can transfer the money to a retirement fund. This may be set up automatically, depending on the situation, but because freelance incomes are often variable, it may be best to set a reminder on the calendar to transfer the funds.
What are your options for retirement savings accounts if you're a freelance worker? Glad you asked.
Retirement Savings Plans for Freelancers

The best way to figure out which retirement savings account is right for you is to talk to an accountant. Failing that, the internet has lots of information about the types of plans and their pros and cons. Here are some of your freelance retirement savings choices:
Roth IRA
IRA stands for "Individual Retirement Account." The Roth IRA is different from the traditional version of this savings tool in one major way: You pay taxes on your contribution now. With a traditional IRA, you save money now and deduct that amount from your taxable income now, but when you pull it out at retirement age, you have to pay taxes. Also, if you try to cash out your traditional IRA before you're using a walker, there's a significant penalty. The Roth IRA is better for freelancers because you can withdraw the money at any time without a penalty. Each year, you can contribute up to $6,000 to a Roth IRA.
SIMPLE IRA
The SIMPLE IRA is available for sole proprietors and small businesses with less than 100 employees. If you have employees, they can contribute to this plan, and you are required to match their contribution dollar for dollar up to a certain percentage. This is tax deductible for the employer.
SEP IRA
You can only contribute to the SEP IRA or simplified employee pension as the employer and up to 25% of your net earnings up to $57,000. You can contribute in one lump sum or increments or skip the yearly contribution altogether. However, if you have employees and you contribute to the plan, you must contribute for them, too.
Solo 401(k)
If you are a sole proprietor of a freelance business, a Solo 401(k) is a good tool for stashing away cash, similar to a traditional employer 401(k) account. The cap on contribution varies by your income and age. One benefit is you can contribute as both employee and employer, which raises the limits on how much you can contribute. The Solo 401(k) is less complex than an employer-funded 401(k), and until the funds reach $250,000, there are no tax filing requirements, according to Investopedia.
HSAs
Health Savings Accounts (HSAs) help freelancers pay for health insurance. While you may associate an HSA with healthcare, it can also be a de facto savings account. Up to age 65, you must withdraw these funds for healthcare expenses only; however, after age 65, you can do whatever you like with that money.
Keogh Plans
Keogh Plans are a type of profit-sharing plan, and they are one of the most complicated of all the possible savings options available to freelancers. To contribute, you must be a sole proprietorship, LLC, or in a partnership. These plans have the most benefit for the freelance elite—those making top dollar in the gig economy.
All of these funds roll over each year — it is your money, after all. There are also a variety of ways you can grow these funds while they're sitting in these savings accounts. For example, you can avoid the volatility of the stock market and place the money in a high-interest savings account.
There are variations in how much the bank or other financial institution will charge you to handle these accounts. Each type of plan has rules governing how much you can contribute, when you can access the funds, how they impact your taxable income, and a whole lot more. We should also note that these aren't all of your savings options; they're just a few of the more traditional types of retirement plans adaptable to the freelance lifestyle.
Setting up a retirement plan can be complicated, especially if you have employees working for you. Always reach out to a finance specialist to find out more about these types of savings plans. Do your research, but don't delay planning to put money away.
Work Smarter, Save Now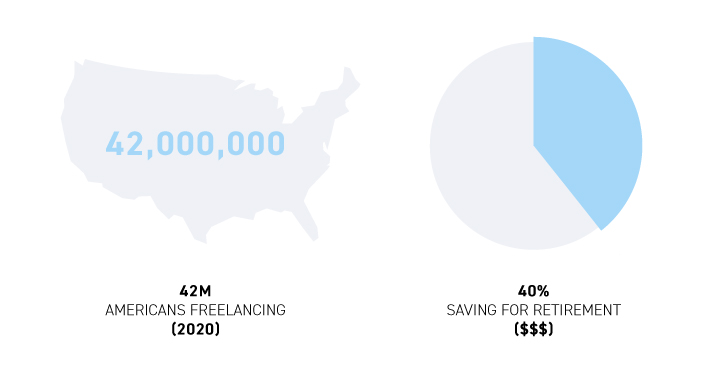 This year, 42 million Americans will freelance either full-time or part-time. But only 40% of us will put money aside into some form of savings. If you're young, retirement may feel like an unattainable goal, something so far in the future it's hard to even dream about. Taking the time now to prioritize saving — even if it's putting aside money for when the gigs end — will help get you off the work treadmill and plan ahead.
If you're looking for steady work, Artisan Talent has a variety of roles for creative freelancers. Talk to our team about how we can help you stay ahead of the game.
Want more freelancing advice? We've compiled some of our favorites here.