If you aren't getting high quality job applicants for your open jobs, it may be because you aren't offering what applicants want these days. Today, job seekers have different priorities, especially when they have the talent and skill to be mobile.
It's called a candidate-driven market and it means the uber talented job seekers hold more cards than they did in years past. (Want to learn more? Read this post all about it). That means Hiring Managers need to up their game when it comes to recruiting.
Here are some of the reasons you might not be getting the top-notch candidates you want.
5 Reasons You Aren't Attracting Top Talent
1. Your Job Isn't Flexible Enough
People today are looking for flexibility: flexible hours and opportunities to work from home. This isn't always possible, but jobs that can provide work from home can be even more effective. People often find that they are motivated to work harder when they can work when they feel best... and when they don't have to worry unnecessarily about their home, children, or pets.
Research supports the work from home theory too. In fact, The Atlantic says "for jobs that don't require much interaction, the office has little to offer besides interruption."
Some companies have experimented with four-day weeks, in which employees work 10-hour days but only four days a week. This gives them more time to themselves while still completing the same amount of work. Other businesses have stopped tracking hours altogether and instead now track deadlines or KPIs. This puts an emphasis on productivity rather than busy work and is also more flexible for employees.
2. You Have Unnecessary Qualifications
Experience and education are two factors in which it can be easy to ask for more than you strictly need. Make sure you aren't asking for more in experience or education than the position really calls for — and be open to alternatives, such as certifications or related experience.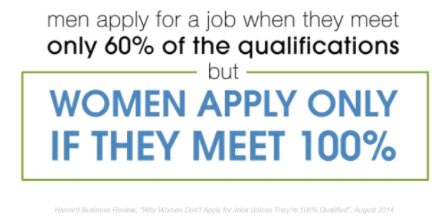 Having unnecessary qualifications also could deter more than qualified candidates from applying, especially if they are women. Glassdoor reported in a "Writing Job Descriptions" webinar that when it comes to applications, men apply for a job when they meet only 60% of the qualifications, but women apply only if they meet 100%.
How do you make sure you're not missing out on great applicants? Pass the job description around. Interviewing candidates that are moving in from other career paths or that are otherwise conventional can at least help you drill down to what you truly need for the job. The direct management of a position will often be able to weigh in on the qualifications that are most necessary. Sometimes this may be unexpected, such as a need for technical skills in a traditionally non-technical position.
3. You Aren't Networking Enough
Many of the best employees aren't actively looking for work, they're called passive candidates. Instead of searching job boards, they are networking; you won't be aware that they are potentially available unless you start asking around.
LinkedIn and other business-related social media can provide significant advantages in this area.
When you do reach out to passive candidates, make sure to tailor your approach. Here are some great tips over on LinkedIn.
4. You Don't Have Enough Benefits
Many people aren't looking for high salaries but the entire compensation package as a whole. Instead of triple digits, many candidates are interested in alternative benefits. This includes health care, retirement benefits, and child care.
If you can't compete in terms of raw cash, you want to instead compete on the basis of additional benefits. Consider asking your existing employees which benefits they're looking for. Here are some cool, low-cost benefits we've found employees really love.
5. You Have a Reputation Problem
It's possible that your business may have online reviews or other information out there that is negative. Many people will look up a company before they interview with them on sites like Glassdoor and Yelp.
Though not everything on the internet is true, it's possible that there may be damaging information that does sound legitimate. Make sure to check your profiles regularly and address concerns as needed.
Having positive testimonials around your business can also be extremely important. This includes content for prospective employees that establishes and emphasizes your company culture and your company's values. Do you have these peppered throughout your website and social media? The answer should be yes.
When to Call for Help
If you've tried all the suggestions above and still aren't finding the right talent, your business isn't operating as well as it could. Finding talented creatives can be a challenge, and is always time-consuming.
If you're wasting precious time pouring over resumes, a staffing agency is a great resource...like Artisan Talent! Contact us today to find out more about getting everything you need to get the right employees. We're here to help!