10 Tips for Creating the Perfect Portfolio While You're Stuck at Home
If you're stuck working from home right now, one way to feel productive is to start looking at your portfolio and see how you can refresh and showcase your work. Now is the time to update, since keeping your portfolio sharp now can help you score gigs in a time where job security is low. Not sure where to start? Change out of your sweatpants (or don't), have a seat, and let the overhaul begin!

1. Trim What Doesn't Serve You
If you have outdated projects that no longer showcase your most on-trend skills, trim them off. Hiring Managers have a lot of applications to process, so you want to grab their attention. Make sure that only your very best work is front and center.
2. Update Existing Projects

For UX work that's been up for a while, make sure all sites you link are still active. This is also a good time to share any journey maps, or case studies that show the process behind the final work. Hiring managers want to see actual working websites if you are showcasing UX work, not screen grabs or comps. For other types of design work, consider adding in some context and background explaining the project and the process.
3. Know Your Audience

When you started out in your field, you were probably focusing on a certain type of role at a certain type of company. Your career isn't static, so your portfolio shouldn't be either. Know the job you're aiming for, the audience you are presenting to, and the type of culture you want to join. Then, update your projects and the look and feel of your site to reflect that. Your portfolio is one of the first ways you introduce yourself and engage the people you want to work with, so make sure it resonates with them.
4. Research the Competition
Just like it's good to know the upcoming trends in your field and industry, it's good to see what other people in your position are showcasing and how they are showcasing it. Knowing the best practices of the best designers out there is a great way to check the pulse of your work and make sure that it's relevant. Obviously, you want your work and style to be your own, but keep your skills sharp, and keep an eye on the competition.
5. Look at Your Layout
Especially if you're in UX, it's more important than ever to make sure the usability of your portfolio reflects your understanding and expertise of digital media and user experience. Even if you're not a UXer, your work and portfolio should be easily navigable, as well as clear and concise. Treat your portfolio as an extension of your work.
6. Stay On Trend
Good design is timeless, of course, but that doesn't mean that it's not evolving or changing. Make sure that you're up to date with the latest trends and UI. Check out the Top 6 Design Portfolio Trends of 2020 to get started! You can also look at portfolio sites like Dribbble and Skillcrush's 11 Best Portfolio Sites of the last year for more inspiration.
7. Know What Your Industry Is Looking For
If you're a Copywriter, then a Hiring Manager will want to see your best content in a well-organized, clean layout that makes it easy to digest your magical words. If you're a Motion Designer or Video Producer, make sure your reel is paced quickly enough to show a range of skills without overwhelming the viewer, and if you're a UXer, make sure your usability is top-notch. Allow your portfolio to show the skills you want to be hired for—and watch the offers roll in.
8. Be Aspirational
If you've been in your profession for a while and are looking to make a big move, consider trimming your portfolio (remember #1?) and only showcasing the work that will get you the next job. If you're angling for that Creative Director promotion, now's the time to put those big conceptual projects front and center, and if you're looking to move from traditional copywriter to content strategy and digital marketing, then break out the web content and blog articles. Dress for the job you want applies here!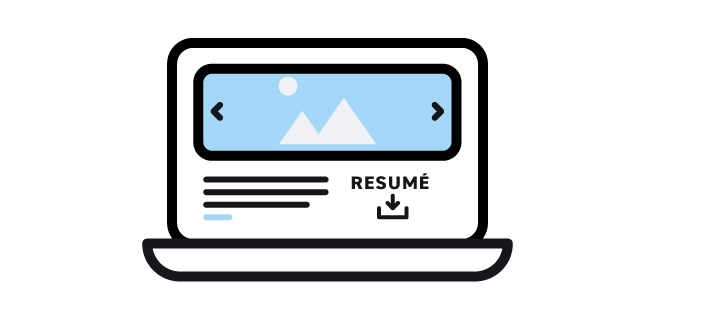 8. Please, Please, Have a Downloadable Resume
You've done the work, your portfolio is poppin', people far and wide are flocking to view your work...now what? Make sure your resume is up to date, easily accessible and downloadable, and has a clear "contact me" portion so people can easily reach out and take things to the next level. Job hunting is like dating; you've got to put yourself out there.
10. Show Your Personality
There is no one right template for a portfolio, and there are millions of them out there. Recruiters and Hiring Managers delight in seeing sites that are quirky, unique, and give them an idea of who you are. This is your chance to make a big impression, so don't be afraid to put it all out there and stand out from the crowd. This is art, after all, and you got into this business to make cool stuff.
Not sure what portfolio site is right for you? Check out our guide to the best portfolio platforms.
---
Want more support during this uncertain time? Artisan is here for you. Our team is looking to connect creatives with great jobs—now more than ever. Sign up for our newsletter for more tips and updates.
Looking for more portfolio inspiration? Check out our recent blogs: